Last Updated JANUARY 2019
www.Speedway-SA.com
.


INTRODUCTION

The closure of 2018 saw the ending of competitive solo dirt track speedway racing in South Africa, as the Walkerville club, running the RSA's last operating speedway track to the south of Johannesburg, look unlikely to be operational in 2019.
The Walkerville Oval Riders Club, having morphed from the MSA break-away SSRC of 2004, (Southern Speedway Riders Club) via the WSRC, have struggled to engage speedway entries, and even numbers for Flat Track, Quad and Sidecar classes have diminished. Only 7 club meetings (plus a Stofskop and a Sidewinders event,) were staged in 2018, the few solo speedway heats being little more than demonstration rides.
Speedway first started in the Union in 1927 with local as well as European and Commonwealth riders making appearances. Over 80 tracks have staged the sport at various times, peaking at 10 venues during the '47 to '52 period. Johannesburg's Wembley Stadium was speedway's Friday night mecca, with crowds at capacity level of 10,000 - 12,000 for International Test Matches against 'Gt.Britain', 'England' and Holland. Top S.A. riders raced in British leagues, with Henry Long and Doug Davies reaching the pinnacle of a Wembley, London, World Championship Final.
With power struggles in the sport in the late '50s, followed by apartheid isolation in 1961, activity diminished dramatically. Only after the success of speedway's rebirth in UDI Rhodesia in the '70s was there enough confidence to invite international riders back to the new Republic. Diffidence on the part of UK authorities' was turned to advantage with a RSA v. USA Test Series raced in front of peak crowds. British league riders followed and were regular visitors for the next 2 decades, though speedway's popularity overall had begun its final decline.
By 2006 only the Walkerville track was staging regular monthly solo and sidecar speedway race meetings with a range of classes including Peewees and Pit-bikes. They were supplemented with Quads and Flat Track events as the present decade progressed, and by 2018 had become the diminishing mainstay form of racing at the Showground oval.

~ ~ ~ ~ ~ ~ ~ ~ ~ ~ ~ ~ ~ ~ ~ ~ ~ ~


SOUTH AFRICAN SPEEDWAY HISTORY ITEMS
- Inventory of S.A. Speedway Tracks, 1927-to date
- History of Speedway in South Africa
- History of Walkerville Speedway
- League Racing in South Africa
- National Champions of S.Africa:
- Solos, - Pairs, - Sidecars
- The Henry Long Collection
See also Gallery pages, p2 > p4,
- S.African International Matches
- S.African Riders in British Speedway
- Memories of a Wembley Lion
- The Dave Collins Saga
- S.A, 'Speedway Panorama'


For RHODESIAN info see dedicated pages
COLLAGES
Click to view each of the following 5 collages of riders and of team line-ups can be seen full size
- 2010 to date 1970 to '00s 1946 to '60 Sidecars 2000 to date Teams 1946 to '71 C20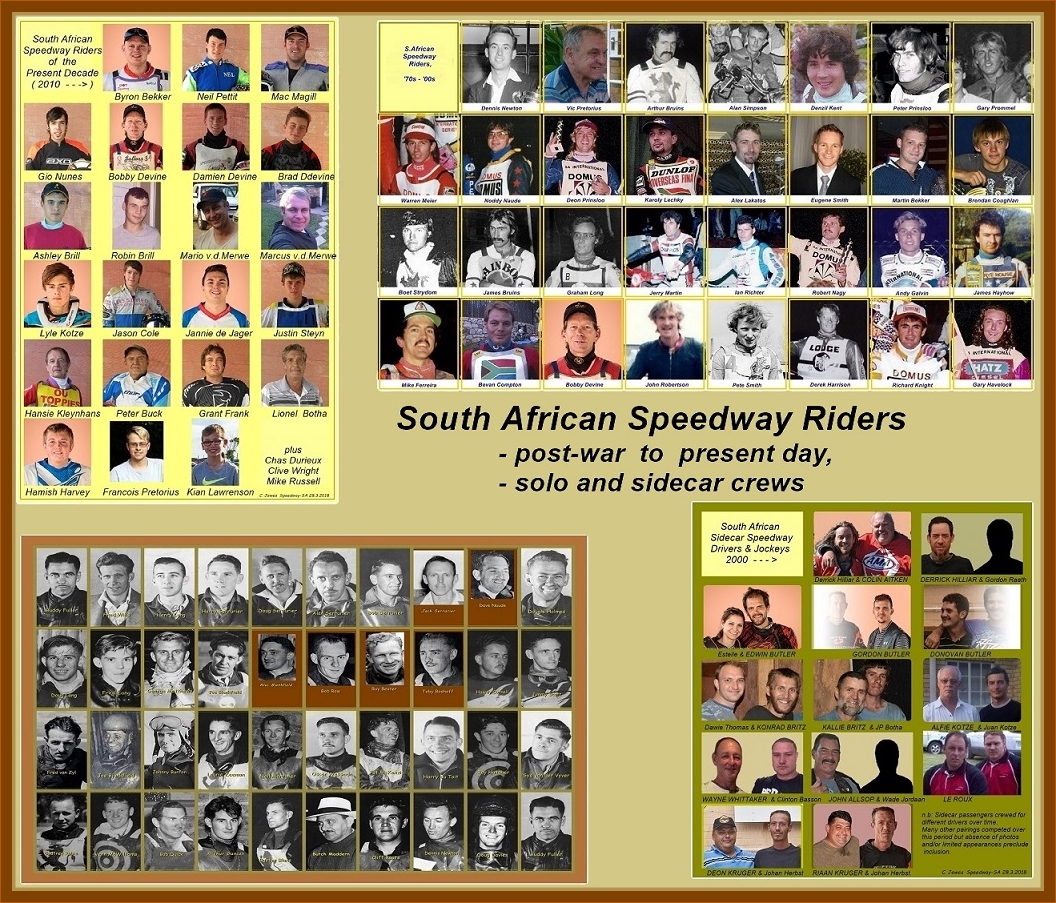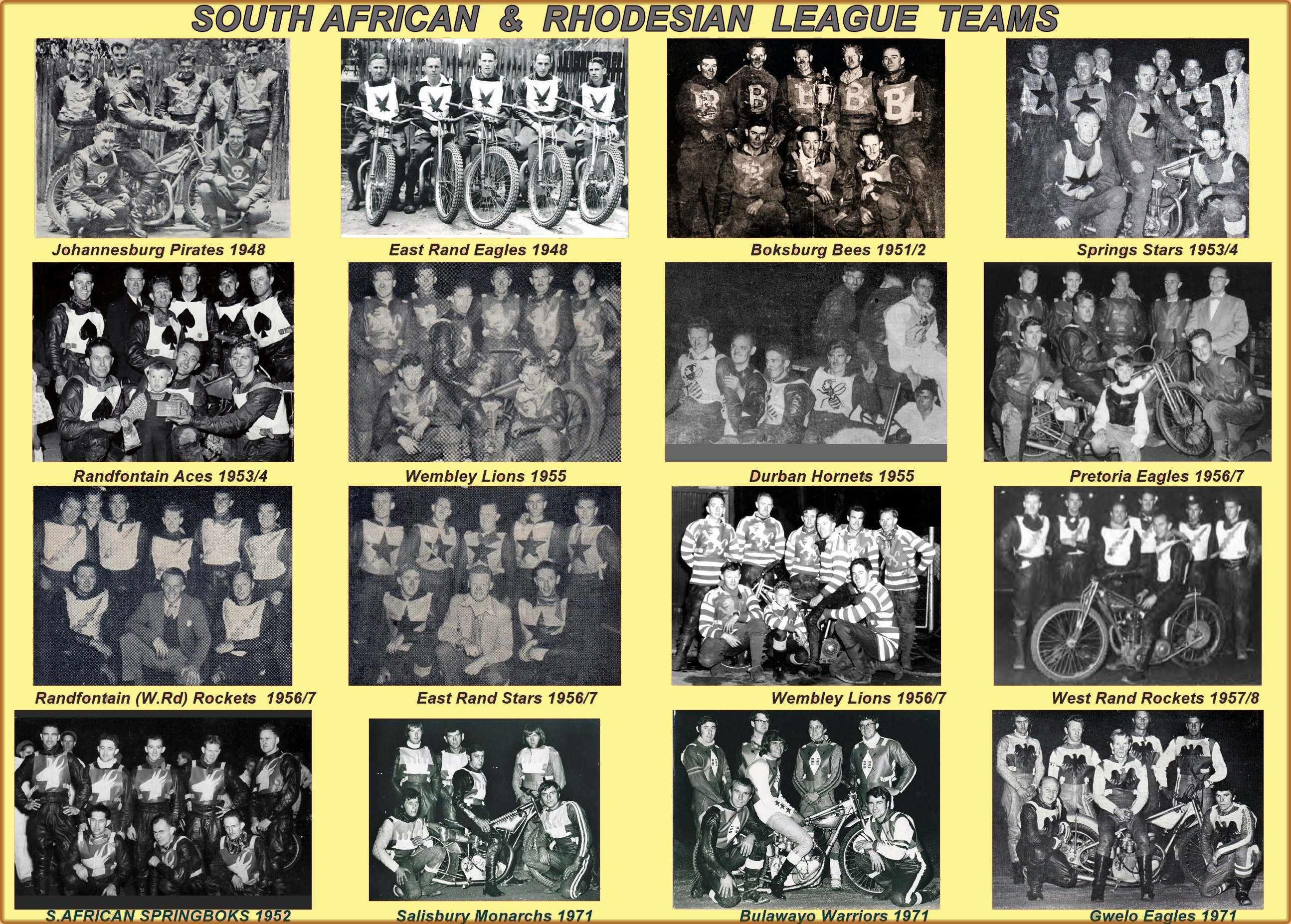 .
"What is Speedway ? - No Brakes, - No Fear ! "
.

" No Brakes, - No Fear ! "
Never been to Speedway? Don't worry, it's simple to follow. Four riders keep turning left over four laps on a quarter mile oval track and each race is over in just over a minute. Easy….but not for the riders. Riders make a clutch start. Apart from emergency situations, the riders slow to a stop by easing off the throttle as the high gearing means engine breaking is rapidly effective. If a rider needs to stop in an emergency he will pull a cut-out cord, which is attached to his wrist, to kill the engine. They race with no brakes. It's hectic, dangerous and exciting. The Bikes: Speedway bikes have no brakes and are powered by a 500cc engine, single-geared machines manufactured by either JRM, (Jawa,) of the Czech Republic or GM of Italy.
The Engines: Engines are single cylinder, fixed gear power units, fitted into the chassis of the bike frame horizontally and fueled by methanol. The engine makes up the major weight of the bike as there are few other parts to the machine. They are not allowed to weigh less than 77 kilograms.
Speedway strongholds are in Europe, primarily Poland, UK, Sweden and Denmark. Each run a number of leagues and have regular team racing fixtures throughout their traditional speedway season that runs from March to October. (In Germany 1000m 'Long Track' races predominate.) As well as the above-mentioned European countries, speedway on a smaller scale also operates in Argentina, Australia, Czech Republic, Italy, New Zealand, Russia, Slovenia and the USA.