'SPEEDWAY-S

outh

A

frica'

- website of the WSRC,-
- Walkerville Speedway Riders Club -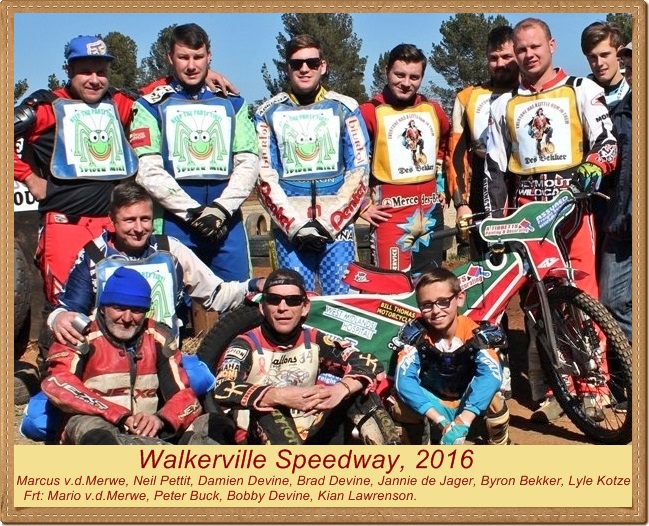 Speedway Racing at the Walkerville Dirt Oval
has been operating in its present guise since October 2006.
The Club has not only Solo Speedway but also Sidecar Speedway,
plus Flat Track-, PeeWee- and Quad-Racing.
Meetings are held monthly, usually on the last Sunday of the month,

- see Fixture List for exceptions and additional events.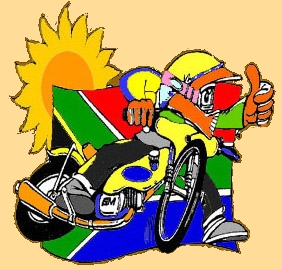 Racing starts at 13h00.
Entry at the gate is R25 p/p,
- children under 12 admitted free. Plenty of secure parking.
Restaurant & Pub on site, as well as take-away outlets for
drinks & food, - please note the premises are licensed.
For information regarding the race track please contact
Donna Devine: 078 668 5816, or Bobby D: 073 808 1913.
For location and GPS co-ordinates for Walkerville Oval
see
Google map
on the final web-page.
Track Length: 315 metres.
Track Record (4 laps): 61.50 secs,
Byron Bekker, 8 March 2009.
.
"What is Speedway ? - No Brakes, - No Fear ! "
.

" No Brakes, - No Fear ! "
Never been to Speedway? Don't worry, it's simple to follow. Four riders keep turning left over four laps on a quarter mile oval track and each race is over in just over a minute. Easy….but not for the riders. Riders make a clutch start. Apart from emergency situations, the riders slow to a stop by easing off the throttle as the high gearing means engine breaking is rapidly effective. If a rider needs to stop in an emergency he will pull a cut-out cord, which is attached to his wrist, to kill the engine. They race with no brakes. It's hectic, dangerous and exciting. The Bikes: Speedway bikes have no brakes and are powered by a 500cc engine, single-geared machines manufactured by either JRM, (Jawa,) of the Czech Republic or GM of Italy.
The Engines: Engines are single cylinder, fixed gear power units, fitted into the chassis of the bike frame horizontally and fueled by methanol. The engine makes up the major weight of the bike as there are few other parts to the machine. They are not allowed to weigh less than 77 kilograms.
Speedway strongholds are in Europe, primarily Poland, UK, Sweden and Denmark. Each run a number of leagues and have regular team racing fixtures throughout their traditional speedway season that runs from March to October. (In Germany 1000m 'Long Track' races predominate.) As well as the above-mentioned European countries, speedway on a smaller scale also operates in Argentina, Australia, Czech Republic, Italy, New Zealand, Russia, Slovenia and the USA.