HENRY LONG, 26.7.1927 - 8.7.2019, R.I.P.

South Africa's greatest ever speedway rider, Henry Long, passed away in Franschhoek, Western Cape, South Africa, aged 91 on Monday July 8th 2019.
In domestic and international competitions, he was the Union's top all-time points scorer, and appeared amongst the world's elite in the World Championship Final at Wembley Stadium, London of 1952, the first of only 2 African riders ever to qualify for a World Final.
The following biography was first posted on this website in 2014.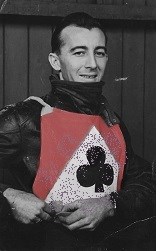 Henry Long, South Africa's most successful speedway rider, had his first rides on a dirt track at age 18 when the Old Barn track at Alberton was dug out and re-opened after the war. On a 350cc Levis, he competed in Harlequin Club competitions controlled by the nationally-affiliated Speedway Racing Association, against the likes of Buddy Fuller, Doug Serrurier and Fred Wills, who'd each ridden the old venue before enlisting in WWII. At this point in time equipment was in short supply, - only the aforementioned trio owned JAPs. Not withstanding, the programme notes of Dec. 7th 1946 said of No.25, Henry Long: "A desperate young rider with great ability and courage, …. one of the most popular riders today. A great future may be in store for him.".
For the 1947/48 racing season, with the arrival of more JAP speedway bikes into the country and the riders' club transferring to a new venture, Johanneburg's Wembley stadium was to become the Mecca of speedway in the Union, hosting international Test matches and national championships.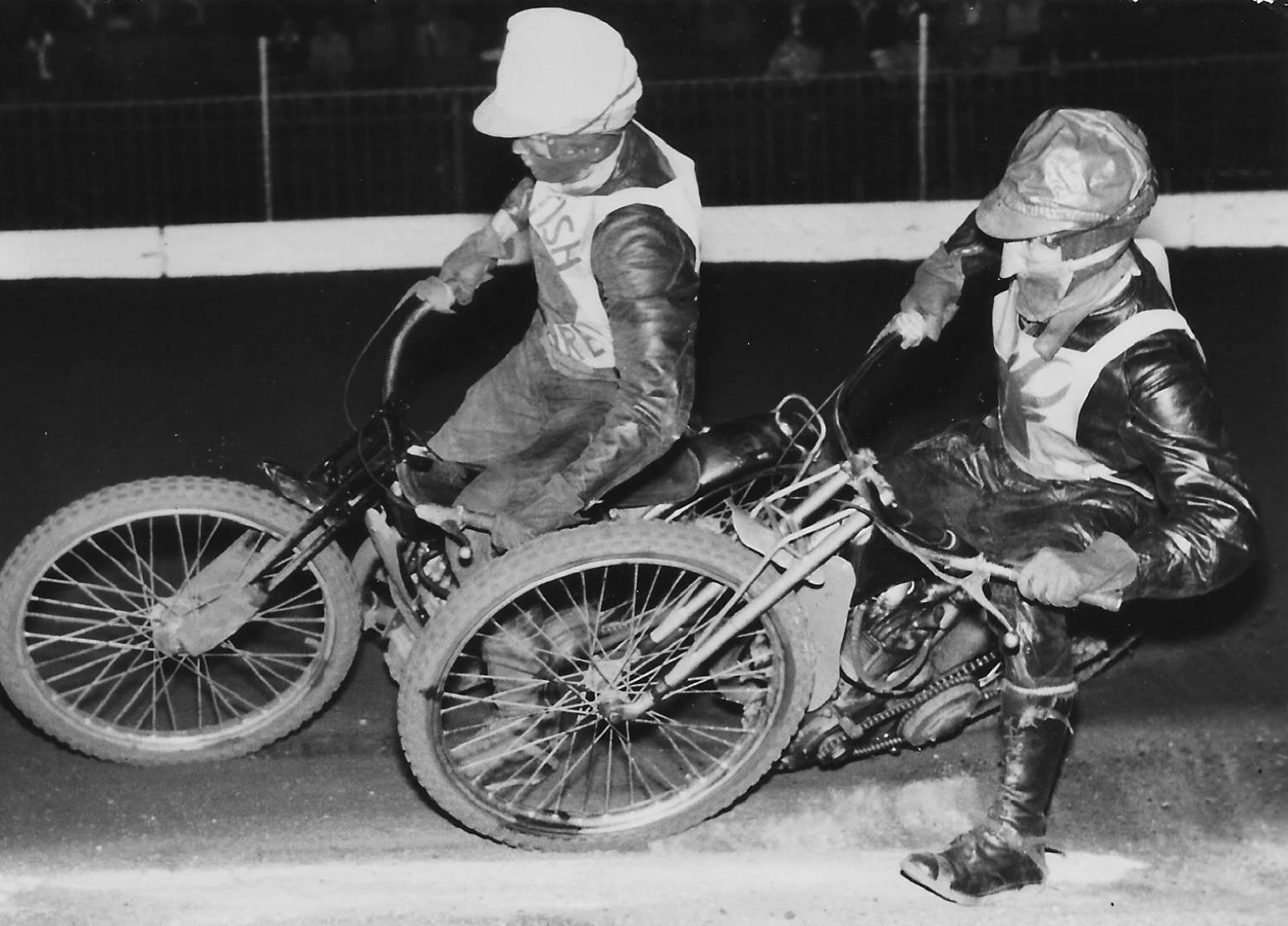 Henry was a regular competitor there from the onset, and became a Pretoria Buffaloes team member when league racing as a 4-team competition was established, - all 4 teams, Johannesburg, East Rand, West Rand plus the Buffaloes, staged their matches at Wembley. With Buddy Fuller gaining a team spot in the Hastings side for the UK summer, Henry ventured abroad too and had a dozen matches for Division 2 side Sheffield, impressing enough to be given outings with the famous Belle Vue Aces of Manchester in the following 1949 British season, the offer having been strengthened by his outstanding performances in the first post-war SA v. England Test series, when he top-scored (across both teams) with 51 points in the 5-match series.
At home Henry Long proceeded to dominate Friday nights at the Wembley circuit throughout the 'fifties, having settled his dispute with the SA.SRA, (now the Speedway
Riders
Association,) and having replaced Buddy Fuller as captain of Wembley Lions, - as the Jo'burg team had come to be re-named - , in 1953. The exception to that was his penultimate season, when he skippered the Durban Hornets under the sport's re-structured body, the NSU (National Speedway Union,) formed following South Africa's most disruptive speedway dispute in '56/'57.
In Test matches during this period he invariably topped the Union's score sheet with double figures, (seen above dicing with Barry Briggs in the 1st S.Africa v. British Commonwealth Test of December 1954: full details to be found on the
'SA Test Match'
pages.) In 1952, after winning his first and much-delayed SA Championship, - delayed because of, respectively, engine failure, a banning order, and Belle Vue duties - , he achieved the ambition of all speedway riders by reaching the Final of the World Championship held annually at Wembley Stadium, London. Only one other S.African rider, Doug Davies in 1956, can lay claim to having emulated the feat.
Along the way Henry Long won 7 SA national championships, (including the SA Open and the SA Handicap Championships,) and was End-of-Season Golden Helmet Match Race Champion 5 times, going undefeated throughout the 1955/'56 and 1956/'57 seasons. After control body disputes in the late 'fifties and South Africa's withdrawl from the Commonwealth in 1961 international speedway in the new Republic was minimal and so were Henry's appearances.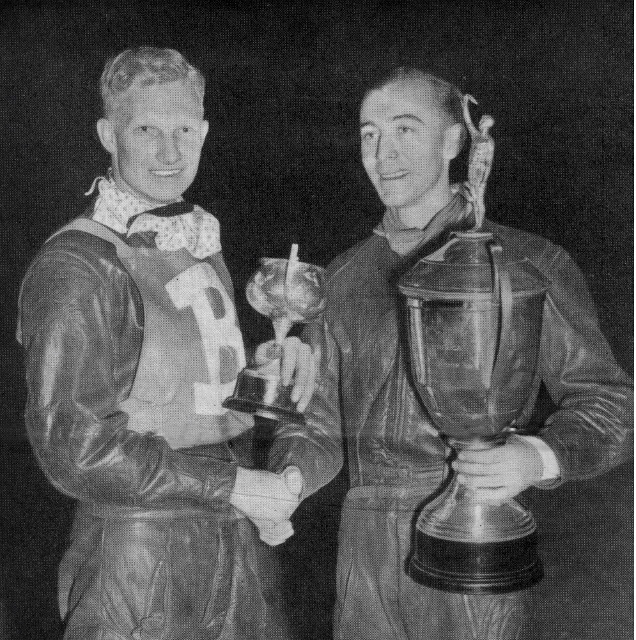 Henry Long (rt.) with the 1952 SA Championship
trophy and Runner-up Roy Bester.
He retired finally in 1964

to concentrate on the family garage business set up by his father, Alf Long, where he was joined in partnership by fellow rider Roy Bester, before starting up a new fork-lift sale and hire business.

In August 2014 Henry suffered a stroke at home in Johannesburg, so relocated to Franschhoek, near Cape Town to be close to his daughter Sue. He passed away peacefully in the early hours of July 8th.
(Elder son Graham Long, who rode speedway in the 'seventies, passed away in 2017.)
HENRY LONG, 26.7.1927 - 8.7.2019 R.I.P.

ccj 8.7.2019



BACKGROUND
This website presents the collation of news, results and photographs of Dirt Track Motorcycle Speedway in South Africa and Rhodesia since its introduction in 1927. It was originally set up for the Walkerville Speedway Riders Club, (WSRC), south of Johannesburg in 2012, but since that time speedway activity there has declined, first conceding track time to other forms of motorcycle racing, including Flat Track and Quad bikes, then to its termination at the end of the 2018 season when the club relinquished lease of the Showground track because of diminishing rider entrants in all classes.
The website now serves the purpose of hosting the archive of speedway racing in Africa. It contains historical accounts plus complementary photographs and statistical data of speedway's early days in the Union, its heyday post-war when leagues, international Test Matches, MRCs and national and regional Championships proliferated, and, following the hiatus of the '60s, the return of Northern hemisphere riders, first to Rhodesia then to the Republic in the 1970s. An additional page has been added to cover speedway racing elsewhere on the continent.

CCJ January 2019
~ ~ ~ ~ ~ ~ ~ ~ ~ ~ ~ ~ ~ ~ ~ ~ ~ ~ ~ ~ ~ ~ ~ ~ ~ ~ ~


CONTENT
- HISTORY ITEMS, Local, National, and International.
- NEWS & RESULTS, (21st Century)
- GALLERIES, 1946-'60, 1970-'99, 2000-'09, 2010- on.
- TEAM PHOTOS & RIDER COLLAGES
- TEST MATCH RESULTS
- HENRY LONG COLLECTION
- RHODESIA, Nthn- , Sthn-, UDI
- ELSEWHERE in Africa


SPEEDWAY IN SOUTH AFRICA
As of 2019 there is no longer any motorcycle dirt track speedway racing in South Africa.
Speedway first started in the Union in 1927 around Durban and Johannesburg, with local as well as European and Commonwealth riders making appearances. Over 80 tracks have staged the sport at various times, peaking at 10 venues during the '47 to '52 period following the post-war resurgence at the Old Barn, Alberton circuit. Johannesburg's Wembley Stadium became speedway's Friday night mecca, with crowds at capacity level of 12,000-plus for International Test Matches against 'Gt.Britain', 'England' and Holland. Top S.A. riders raced in British leagues, with Henry Long and Doug Davies reaching the pinnacle of a Wembley, London, World Championship Final.
With power struggles in the sport in the late '50s, followed by apartheid isolation in 1961, activity diminished dramatically. Only after the success of speedway's rebirth in UDI Rhodesia in the '70s was there enough confidence to invite international riders back to the new Republic. Diffidence on the part of UK authorities' was turned to advantage with a RSA v. USA Test Series raced in front of peak crowds. British league riders followed and were regular visitors for the next 2 decades, though speedway's popularity overall had by then begun its final decline. By 2006 the only track staging regular speedway meetings was that at the Walkerville Agricultural Showground.

- WALKERVILLE
The track at Walkerville, 20 miles to the south of Johannesburg, was constructed in 1999, primarily by Rhodesian-born Gerald Richter, aided by local enthusiasts. The one-time MSA steward and Speedway Controller turned Promoter had served time with Buddy Fuller's organisation after moving to South Africa in '72. In '99 he set about transforming the derelict Walkerville Showground site for competitive speedway racing for the riders and followers in the wider Jo'burg area. Below can be seen the far-from impressive 'entrance gate' in those early days of the 'Walkerville Showground', - and action from one of the very first meetings.

In each year of the early '00s rounds of the official National Championship were staged at the Showground. When Richter left for the UK in 2002 the NSA (National Speedway Association) took over the running of the Walkerville track, later morphing into the SSRC in 2004 when they broke away from MSA (Motorsport South Africa, the national governing body affiliated to FIM/FIA,) and set up at Wild Things Raceway, between Glenvista and Alberton.
Walkerville remained silent for a few years until 2006 when the SSRC returned to make the Showground their home. At this point it became the only and the last African track staging regular monthly solo and sidecar speedway race meetings, including rounds of the club's National Championship. With a change of organiser from family Bekker to family Pettit in 2011, the club was again re-badged (to WSRC, - as Flat Tracks increased it later became the WORC under family Devine,) and continued with a monthly programme of bike plus quad racing, including categories for Peewee and Flat Track as well as U21 and senior speedway classes. As the decade progressed and rider numbers reduced with retirements, etc, the Regional and SA National championships were discontinued for want of participants and the programme was substituted with more Quads and Flat Track events, which by 2018 had become the main but nonetheless diminishing racing class at the Showground oval.
- THE END OF SPEEDWAY IN SOUTH AFRICA

In this final season the Club continued to struggle to engage speedway entries, and even numbers for Flat Track, Quad and Sidecar classes diminished. Only 7 club meetings (plus 2 non-speedway events,) were staged in 2018, the few solo speedway heats being little more than demonstration rides, - the last vestiges of speedway in South Africa. No other organization, club or track, stages regular speedway racing: the last days of 2018 were to be the end of competitive solo dirt track speedway racing in South Africa.
..................................................................................................................................................................................

Walkerville 2016,
- the last team shot taken,
- assembled for the 'Cap'tn Bekkie v. Spider Mike' match of 26.6.2016


..................................................................................................................................................................................COLLAGES
Click year to view each of the following 4 collages of riders and of team line-ups full size,
-
2010 to date
-
1970 to '00s
-
1946 to '60
-
Sidecars 2000>
, (scroll down.) -
Teams