Last Updated NOVEMBER 2018
www.Speedway-SA.com
.


1991 Inter-Province Sidecar Speedway Challenge Match
-
Transvaal v.
Orange Free State v.
Natal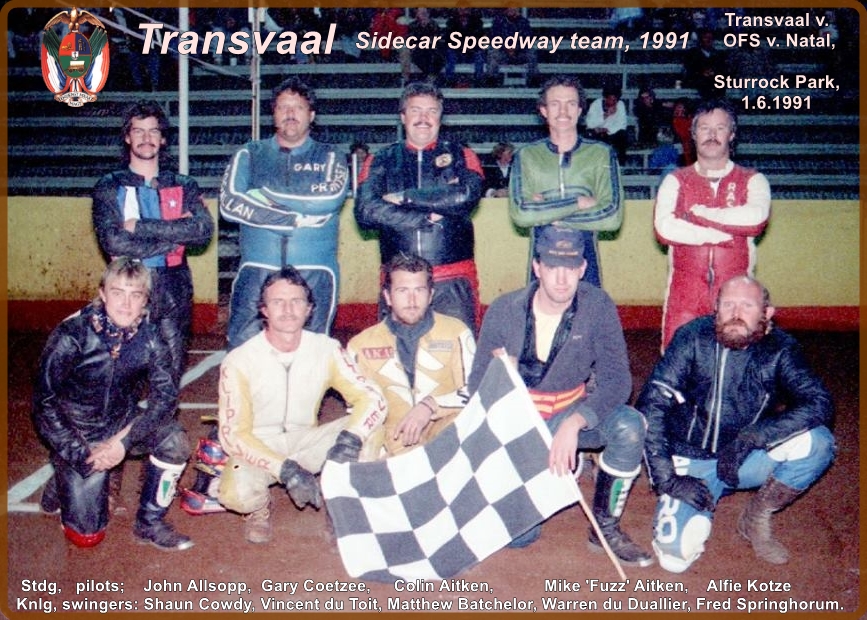 1991 Inter-Province Challenge Match -
Transvaal 45,
Orange Free State 26,
Natal 24
Transvaal 45:
C Aitken/Batchelor 14, M Aitken/du Duallier 9, Coetzee/du Toit 9, Allsopp/Cowdy 7, Kotze/Springorum 6.

Orange Free State 26:
Naas Louw/Frikkie de Bruin 10, George Oelofse/Willem Burger 9, Willie Hawkey/Des Bekker 3, Chris de Beer/nk 2, Brian Flowerday/Hans Zahlauer 2
Natal 24:

Fred Slabbert/Grant Rust 12, Andy Cox/Michael McDaniel 7, Leon Vermaak/nk 4, Colin Bezuidenhout/Terrence McDaniel 1, Roy Slabbert/Colin Atkinson 0.
...........................................................................................................................................................................



EARLIER POSTINGS ON THIS PAGE DURING 2018 HAVE NOW BEEN RELOCATED TO THE APPROPRIATE GALLERY PAGE (majority to Gallery p3, 1970 -'99,) IN PREPARATION FOR FURTHER ADDITIONS IN 2019.



Collage of photos from the '80s, received from Markus van den Berg,
- with Denzil Kent @ Corobrik, (top Ctr,) with Noddy Naude @ Mahem, (top Rt,) (others as #26 at Corobrik.)
Action from Dunswart,(ctr. Lt), Ottawa (ctr. Rt.) Also incl'd, stalwart Peter Water, bt.Rt,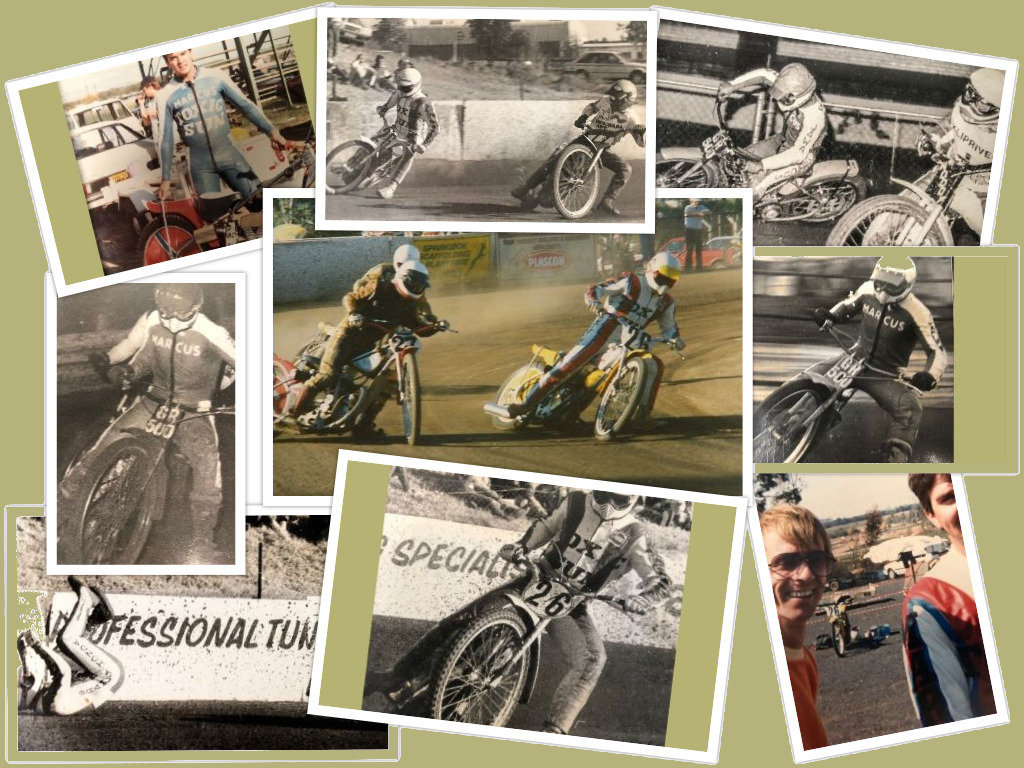 ...........................................................................................

Walkerville 2018
.
Snaps from the August 2018 meeting at Walkerville Oval, -
- a pair of Walkerville stalwarts, Bobby Devine (organiser,) and Peter Buck, (track curator.)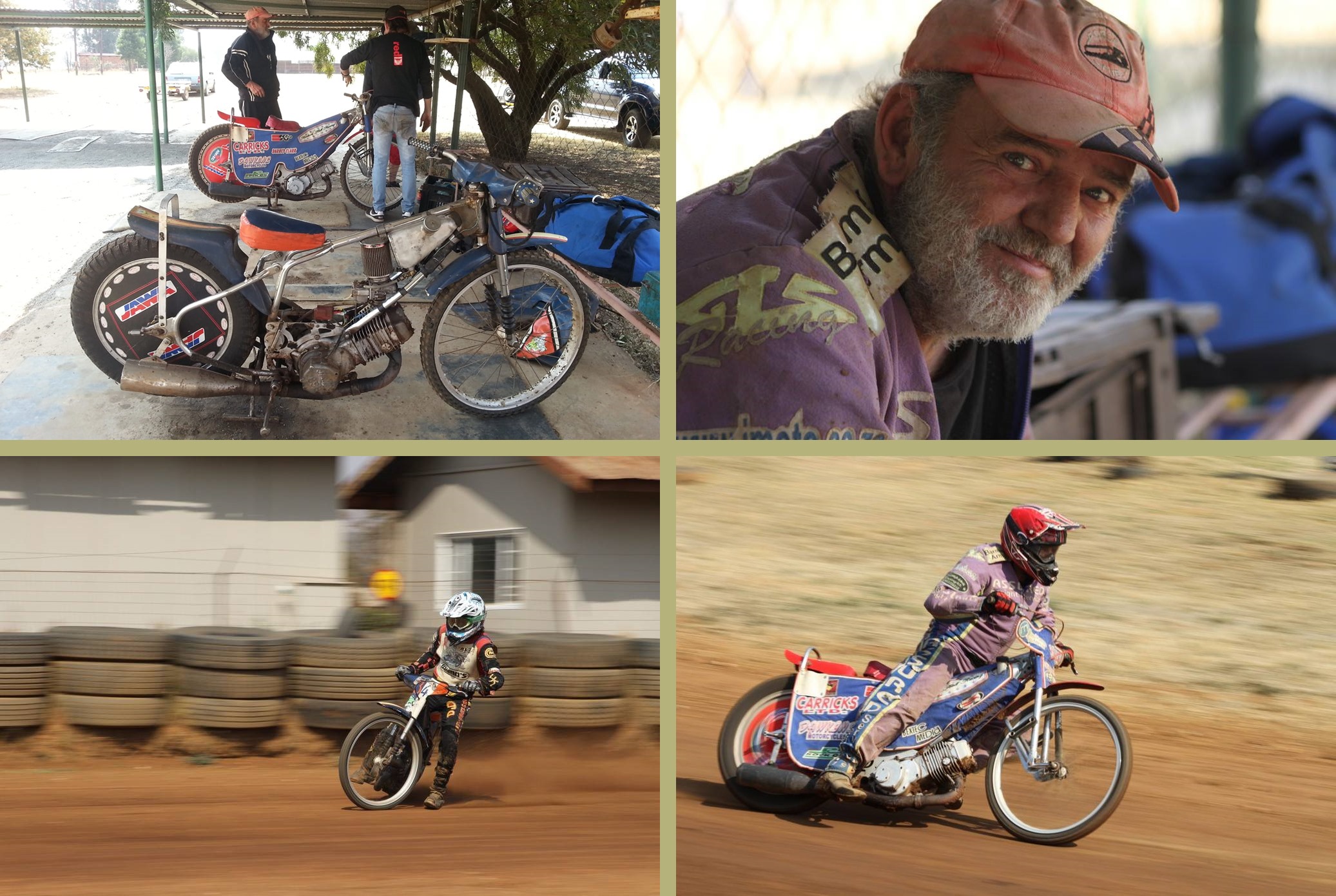 .................................................................................................
Dunswart Devils/Bees, 1979 > 1984.
The 2 photo below are of Dunswart teams, taken between the late '70s and early '80s.
Two teams emerged in the Republic near the end of the 'seventies, – Tarlton Tomahawks and Dunswart Devils – , representing the two existing Transvaal tracks. They were formed to provide team racing for the public to supplement the repetition of individual meetings, but seems to have been only moderately successful as the fans tired of matches between the same two teams. The first photograph, showing the Devils team of around 1979, captained by Arthur Bruins, is thought to probably have been taken at Tarlton, it being a large 400m-plus track.
When racing began to tail off at Tarlton, and Pretoria opened, these derby matches were replaced by Pretoria v. Dunswart matches. Pretoria adopted their old nickname, the Eagles whilst Dunswart dropped the Devils moniker and became the Dunswart Stars.
By 1983 the Honeylube Oil company had been secured as sponsors, conditional on a name change. Dunswart Honeybees, more familiarly known as The Bees, can be seen in the second picture, captained by the remaining former Devil, Noddy Naude.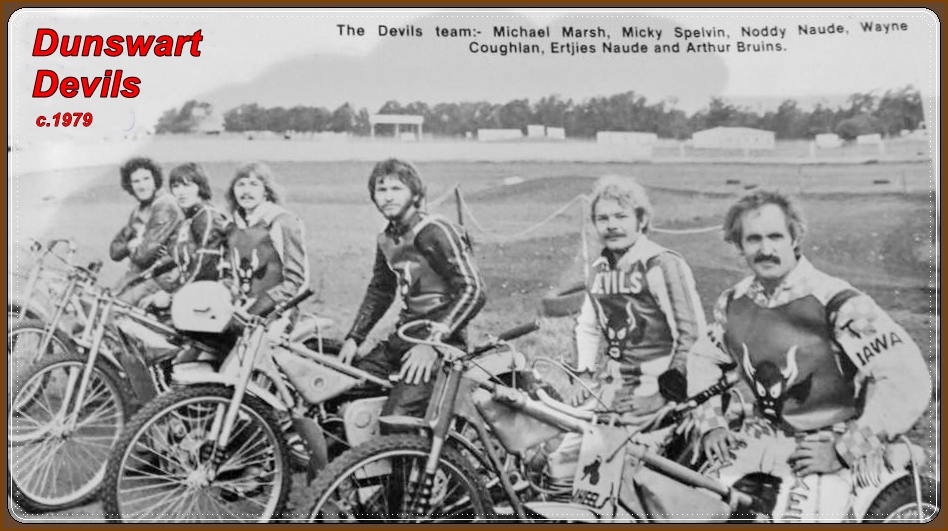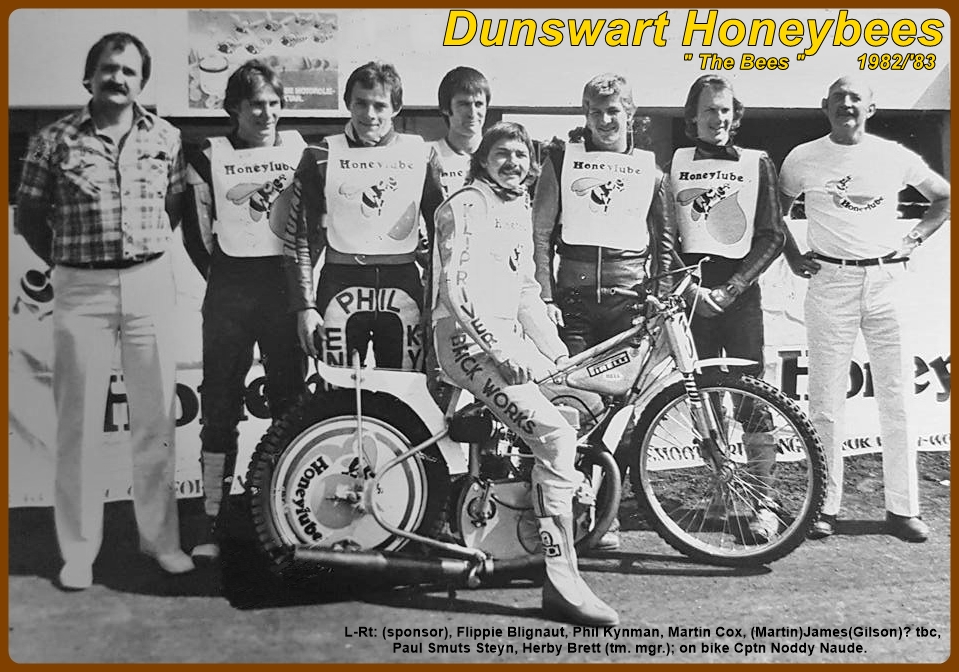 .
"What is Speedway ? - No Brakes, - No Fear ! "
.

" No Brakes, - No Fear ! "
Never been to Speedway? Don't worry, it's simple to follow. Four riders keep turning left over four laps on a quarter mile oval track and each race is over in just over a minute. Easy….but not for the riders. Riders make a clutch start. Apart from emergency situations, the riders slow to a stop by easing off the throttle as the high gearing means engine breaking is rapidly effective. If a rider needs to stop in an emergency he will pull a cut-out cord, which is attached to his wrist, to kill the engine. They race with no brakes. It's hectic, dangerous and exciting. The Bikes: Speedway bikes have no brakes and are powered by a 500cc engine, single-geared machines manufactured by either JRM, (Jawa,) of the Czech Republic or GM of Italy.
The Engines: Engines are single cylinder, fixed gear power units, fitted into the chassis of the bike frame horizontally and fueled by methanol. The engine makes up the major weight of the bike as there are few other parts to the machine. They are not allowed to weigh less than 77 kilograms.
Speedway strongholds are in Europe, primarily Poland, UK, Sweden and Denmark. Each run a number of leagues and have regular team racing fixtures throughout their traditional speedway season that runs from March to October. (In Germany 1000m 'Long Track' races predominate.) As well as the above-mentioned European countries, speedway on a smaller scale also operates in Argentina, Australia, Czech Republic, Italy, New Zealand, Russia, Slovenia and the USA.