.
Last Updated MARCH 2018
NEW ADDITION - Jan. 2018
Rhodesia, - Northern, Southern and UDI

www.Speedway-SA.com
.

.

NEW ITEMS IN 2018

.
1986 SA Pairs Champions, Wayne Coughlan and Eddie Cox
, seen after winning the event at Corobrik. Eddie went to the UK in '88 where he had rides with Long Eaton's junior league team.
Below, Eddie in action on home soil.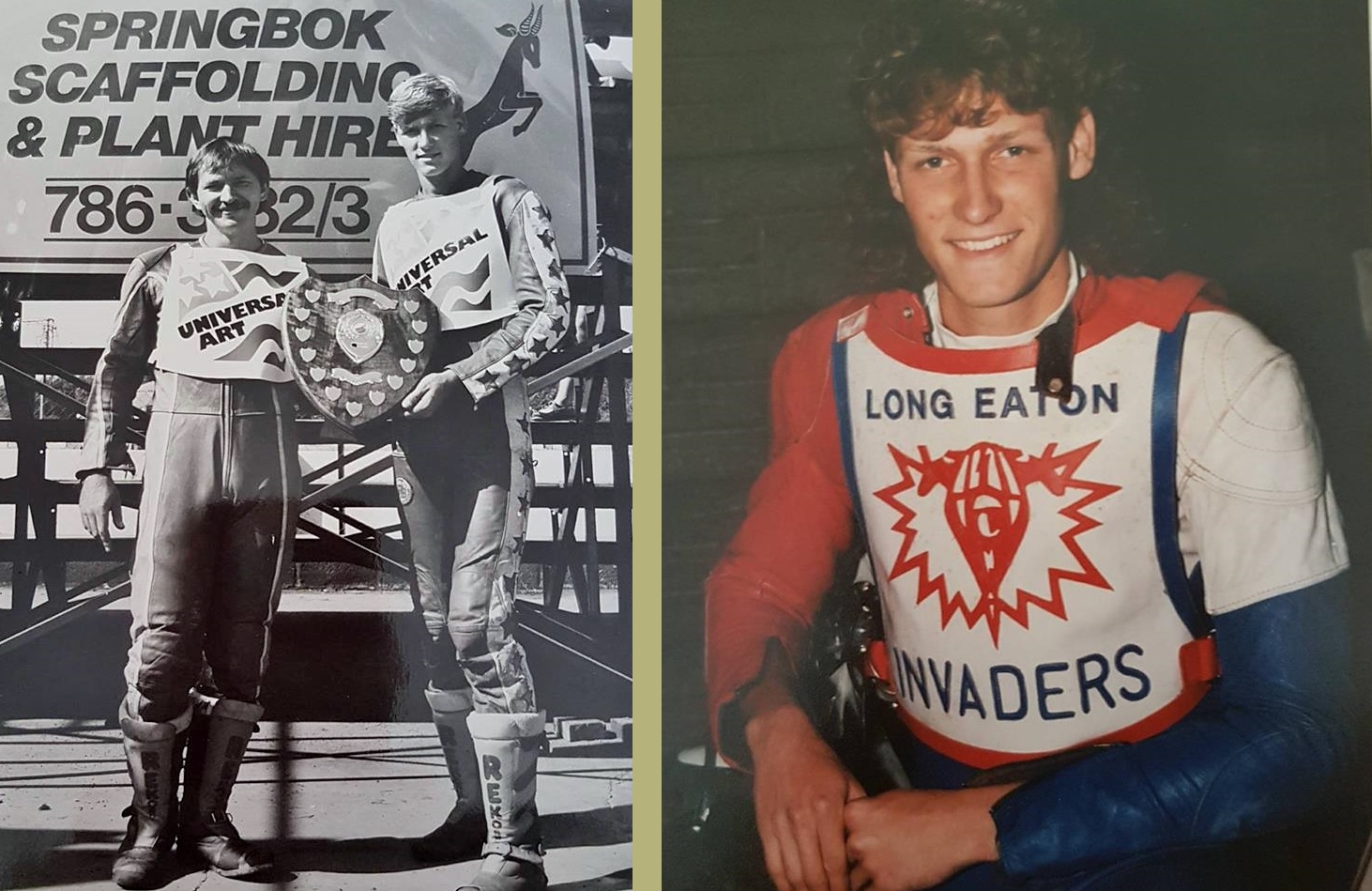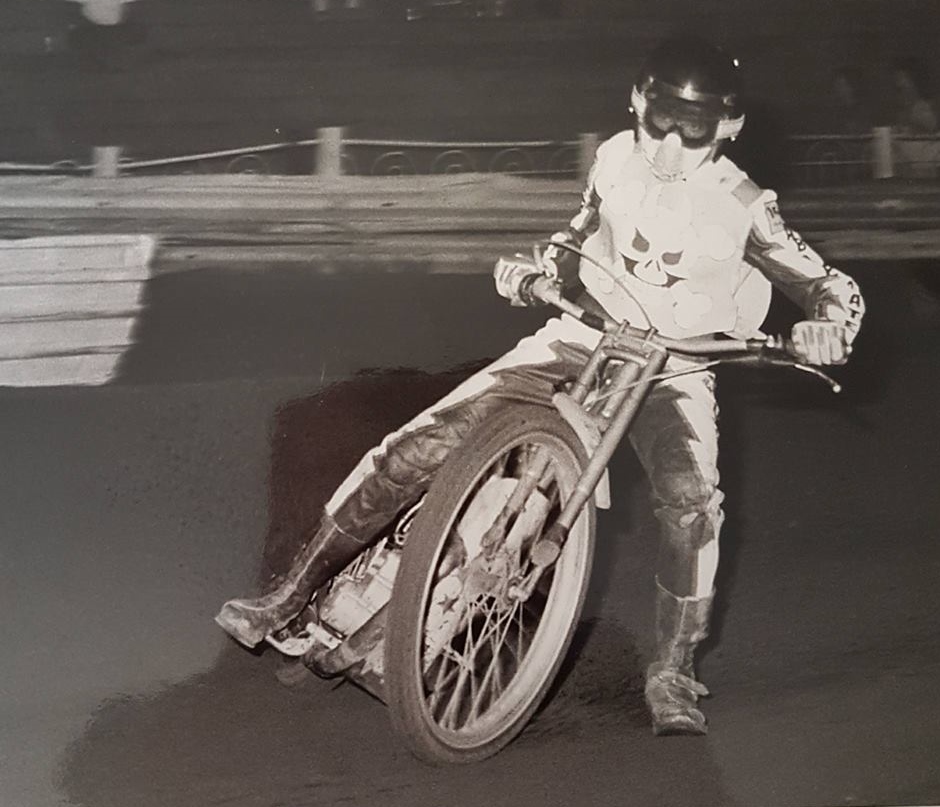 ...............................................................

.
The 2 teams from the 'Mystery Test Series', - in reality a single
South Africa v Britain
test match, (unofficial, - for political reasons the visitors became "Overseas") , held at Goodwood Showgrounds,
Cape Town, Feb. 11th 1978
. South Africa were the winners, (score unknown), Peter Prinsloo scoring a 12pt. max. Four other events in the campaign, 2 each at Wembley and Mahem Stadium, Pretoria, were
not
Test Matches but Individuals and club matches.
stdg, 'Overseas' (=Britain), Lt/rt: Nigel Close, Bert Harkins (Cptn.), Roni Ferguson, Alex Hughson.
knlg, S.Africa: Peter Prinsloo (Cptn.), Brian Stephens, Boet Strydom, Arthur Bruins.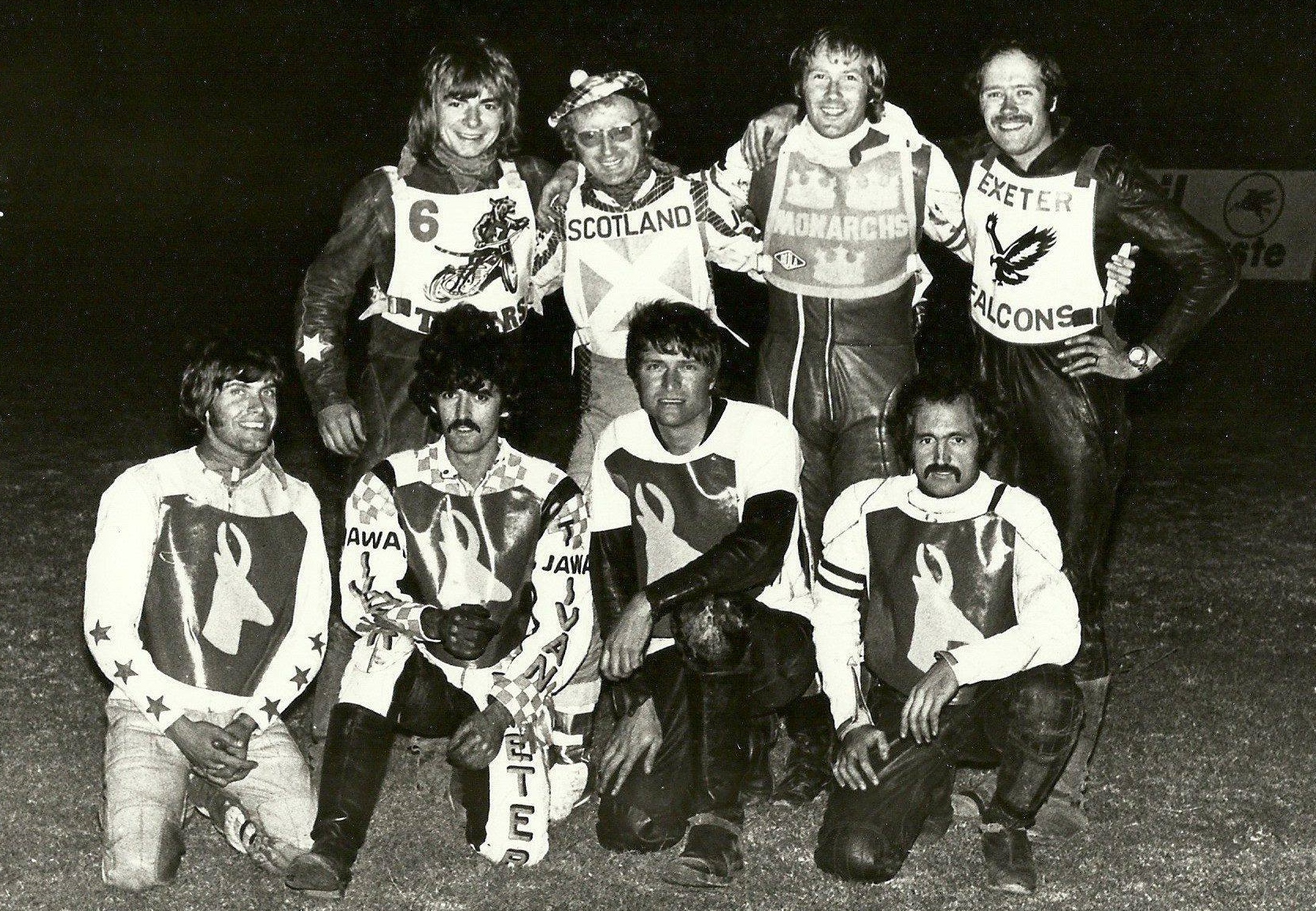 Earlier British teams:
1949
: Jimmy Dunn, Ken Tilbury, Wilf Plant (Cptn. on bike), Ted Gibson, Peter Robinson,
knlg: Ken Middleditch, Jack Bishop.. . @ Wembley, Joburg, 1.1.1949.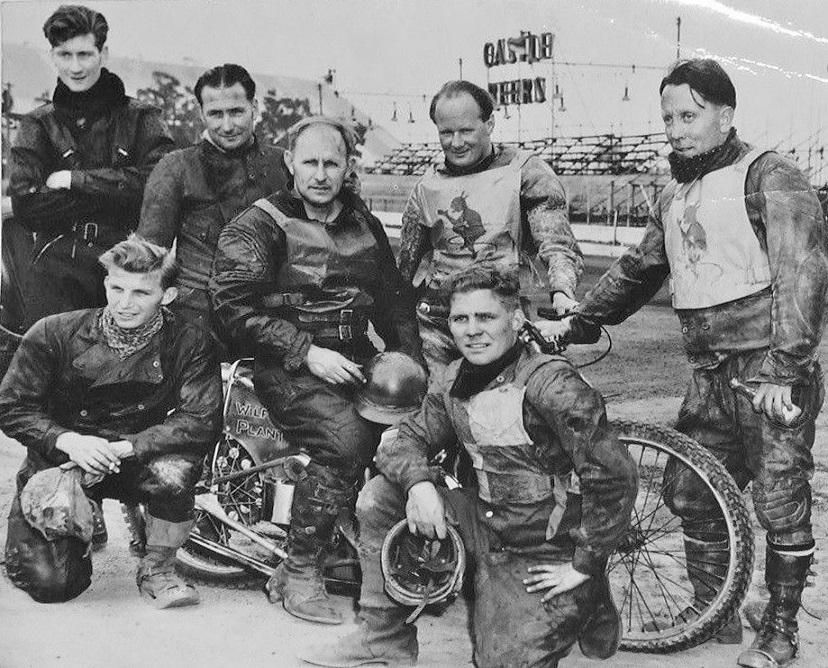 1950
: Harry Welch, Peter Robinson, Derek Tailby, Jack Hodgson (Cptn. on bike,) Ken Middleditch, Ron Clark;
knlg: Ted Gibson, Dave Collins. . . @ Bloemfontain 28.1.1950.
Buddy Fuller outside Ken Middleditch . . .@ Dunswart Jan. 8th 1949.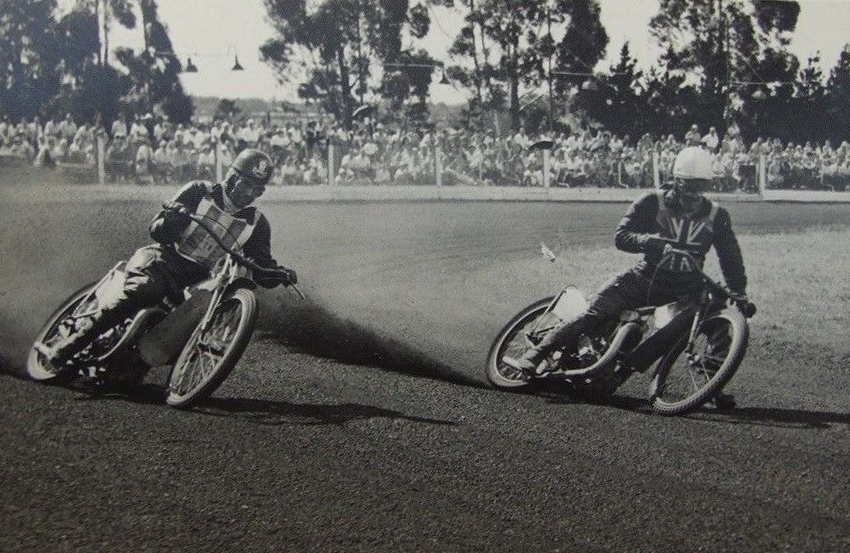 .............................................................................

2017
: Byron Bekker leads Rebels team-mate Mac Magill . . @ Walkerville, Aug. 26th 2017.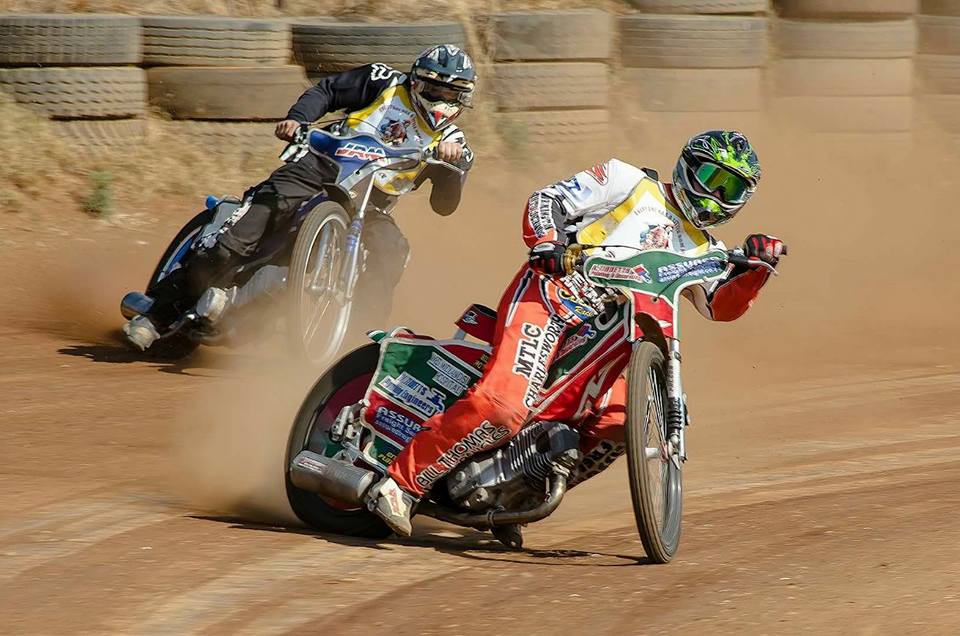 .
"What is Speedway ? - No Brakes, - No Fear ! "
.

" No Brakes, - No Fear ! "
Never been to Speedway? Don't worry, it's simple to follow. Four riders keep turning left over four laps on a quarter mile oval track and each race is over in just over a minute. Easy….but not for the riders. Riders make a clutch start. Apart from emergency situations, the riders slow to a stop by easing off the throttle as the high gearing means engine breaking is rapidly effective. If a rider needs to stop in an emergency he will pull a cut-out cord, which is attached to his wrist, to kill the engine. They race with no brakes. It's hectic, dangerous and exciting. The Bikes: Speedway bikes have no brakes and are powered by a 500cc engine, single-geared machines manufactured by either JRM, (Jawa,) of the Czech Republic or GM of Italy.
The Engines: Engines are single cylinder, fixed gear power units, fitted into the chassis of the bike frame horizontally and fueled by methanol. The engine makes up the major weight of the bike as there are few other parts to the machine. They are not allowed to weigh less than 77 kilograms.
Speedway strongholds are in Europe, primarily Poland, UK, Sweden and Denmark. Each run a number of leagues and have regular team racing fixtures throughout their traditional speedway season that runs from March to October. (In Germany 1000m 'Long Track' races predominate.) As well as the above-mentioned European countries, speedway on a smaller scale also operates in Argentina, Australia, Czech Republic, Italy, New Zealand, Russia, Slovenia and the USA.