SOUTH AFRICAN SPEEDWAY HISTORY ITEMS
- History of Speedway in South Africa
- Walkerville History
- League Racing in South Africa
- Inventory of S.A. Speedway Tracks, 1927-to date
- S.African Riders in British Speedway



See also Gallery pages, p1 > p3, and The Henry Long page.
- S.African International Matches
- National Champions of S.Africa:
- Solos, - Pairs, - Sidecars
- S.A, 'Speedway Panorama'
- Memories of a Wembley Lion
- The Dave Collins Saga

For RHODESIAN info see dedicated pages
December 2018 -
THE END OF SPEEDWAY IN SOUTH AFRICA
The closure of 2018 saw the ending of competitive solo dirt track speedway racing in South Africa, as the Walkerville club, running the RSA's last operating speedway track to the south of Johannesburg, will not be operational in 2019.
The Walkerville Oval Riders Club, having morphed from the MSA break-away SSRC of 2004, (Southern Speedway Riders Club) via the WSRC, have struggled to engage speedway entries, and even numbers for Flat Track, Quad and Sidecar classes have diminished. Only 7 club meetings (plus 2 non-speedway events,) were staged in 2018, the few solo speedway heats being little more than demonstration rides.
Speedway first started in the Union in 1927 with local as well as European and Commonwealth riders making appearances. Over 80 tracks have staged the sport at various times, peaking at 10 venues during the '47 to '52 period. Johannesburg's Wembley Stadium was speedway's Friday night mecca, with crowds at capacity level of 10,000 - 12,000 for International Test Matches against 'Gt.Britain', 'England' and Holland. Top S.A. riders raced in British leagues, with Henry Long and Doug Davies reaching the pinnacle of a Wembley, London, World Championship Final.
With power struggles in the sport in the late '50s, followed by apartheid isolation in 1961, activity diminished dramatically. Only after the success of speedway's rebirth in UDI Rhodesia in the '70s was there enough confidence to invite international riders back to the new Republic. Diffidence on the part of UK authorities' was turned to advantage with a RSA v. USA Test Series raced in front of peak crowds. British league riders followed and were regular visitors for the next 2 decades, though speedway's popularity overall had by then begun its final decline.
WALKERVILLE HISTORY
The track at Walkerville was constructed in 1999, primarily by Rhodesian-born Gerald Richter, aided by local enthusiasts. The one-time MSA steward and Speedway Controller turned Promoter had served time with Buddy Fuller's organisation after moving to S.Africa in '72. In '99 he set about transforming the derelict Walkerville Showground site for competitive speedway racing for the riders and followers in the wider Jo'burg area. Below can be seen the far-from impressive 'entrance gate' in those early days of the 'Walkerville Showground', - and action from one of the very first meetings.
In each year of the early '00s rounds of the official National Championship were staged at the Showground. When Richter left for the UK in 2002 the NSA (National Speedway Association) took over the running of the Walkerville track, later morphing into the SSRC in 2004 when they broke away from MSA (Motorsport South Africa, the national governing body affiliated to FIM/FIA,) and set up at Wild Things Raceway, between Glenvista and Alberton.
Walkerville remained silent for a few years until 2006 when the SSRC returned to make the Showground their home. It was now the only African track staging regular monthly solo and sidecar speedway race meetings, including rounds of the club's National Championship. With a change of organiser from family Bekker to family Pettit in 2011, the club was again re-badged (to WSRC, - as Flat Tracks increased it later became the WORC under family Devine,) and continued with a monthly programme of bike plus quad racing, including categories for Peewee and Flat Track as well as U21 and senior speedway classes. As the decade progressed and rider numbers reduced with retirements, etc, the Regional and SA National championships were discontinued for want of participants and the programme was substituted with more Quads and Flat Track events, which by 2018 had become the main but nonetheless diminishing racing class at the Showground oval. Just a few demonstration heats with a couple of speedway bikes constituted the last vestiges of speedway in South Africa, and no other organization, club or track, stages regular speedway racing.
HISTORY OF SPEEDWAY IN SOUTHERN AFRICAN



Buddy Fuller, Henry Long, Doug Davies, Dennis Newton, Peter Prinsloo, Denzil Kent

The roll call of South African star riders runs through Buddy Fuller, Henry Long, Dennis Newton, Peter Prinsloo, Denzil Kent and many more, all of whom have played a part on the international scene, both in the Union and in UK leagues where they have held their own in competition against world-class opposition.
The articles below were compiled by speedway journalist Christian Weber and initially published here in a local speedway newsletter around 2004, and serve now as then to give the background of the sport, from the earliest days in the Union through the RSA to the present decade, to today's generation of speedway enthusiasts.
"75 Years of Speedway in South Africa,
- A History from 1928 to 2003" Compiled by Christian Weber.

Latter-day speedway into the 21st century, - 1998 to 2017 - , can be followed via
the Walkerville news items on the next web-page, 'Results & News.'

Parts 1 - 5:
1: How it all Began
2: The First Test Match
3: The Post-War Boom
4: The Early 1950s
5: World Stars Race in the Union
Parts 11 - 15:
11: The 1957/58 Season
12: In 1958 Enterprise is Needed
13: The Return of Buddy Fuller
14: Quiet Times for Speedway
15: Klerksdorp Speedway keeps the Sport Alive
Parts 21 - 25:
21: Foreign Riders in Rhodesia
22: Speedway Back with a Vengence
23: OFS Speedway Revival
24: S.African Race Ban Lifted
25: Rainy Days
Parts 6 - 10:
6: Six African Tracks in 1953/54
7: The Stars of the Fifties on their Travels
8: Long & Davies - S.Africa's Greatest
9: Threat of Violence - The 1956/57 Season
10: 1957 - The Control Board Takes Over
Parts 16 - 20:
16: The Roving Scotsman
17: National Speedway League in Rhodesia
18: S.Africa Wants British Tourists
19: South Africa Speedway Revival of 1972
20: S.African Test Team Selection
Parts 26 - 31:
26: In Rhodesia
27: Rhodesians Keep Going
28: World Champions Series in S.A.
29: International Tour 1977/78
30: From Wembley to The Rainbow
31: 1978/79 - Cape Speedway Tour
LEAGUE RACING in South Africa.

Pt.1: Transvaal League, 1947 -'52
National League, 1952 -'59
In the post-war heyday of South African speedway, league team racing was introduced, first in the Transvaal, then wider as a National League. The attached table and article summarizes the teams and the tracks of each year, with the concluding result.
Team photographs can be see on Gallery p.4


JoBurg Pirates, Pretoria Tigers, Germiston/E.Rand Eagles, Benoni/Boksburg Lions
( Transvaal teams insignia between 1948 and 1951.)
......................

Pt.2: 1977 /'78, Imperial Paint Products League Championship,
1982, National League,
1997 -'99, National Speedway Association League,
2002, S. African Elite League International Series,
2003 /'04, South African League.

In these later decades other small scale leagues were initiated, though not all ran to conclusion. If you can provide any results or missing information on above events during this period please contact Speedway-SA via the link on the Contacts page.
See also Gallery History pages.


INVENTORY of South African Speedway Tracks, 1927 - to date

Posted
here
is an A-Z list with accompanying summary article of more than 80 speedway tracks that have staged dirt track motorcycle speedway racing in South Africa since the inception of the sport in the late 1920s.
Speedway racing has been seen in 8 of the Republic's 9 Provinces over the decades, (Limpopo being the exception,) with half of the venues sited in today's Gauteng, and Kwazulu-Natal being the only other region to count its historic sites into double figures. The years of operation and number of seasons are also given.
CCJ

S.AFRICAN- & RHODESIAN-BORN RIDERS
IN BRITISH SPEEDWAY

Many Southern African-born speedway riders, including a number from the Rhodesias, traveled to Europe to race in the UK's domestic leagues and improve their racing standard, perhaps even to reach a Wembley, London World Final and realise the ultimate dream of every speedway rider to becoming World Champion. The accompanying table and its brief review lists these riders.

NATIONAL CHAMPIONS

South African SOLO and SIDECAR National Championships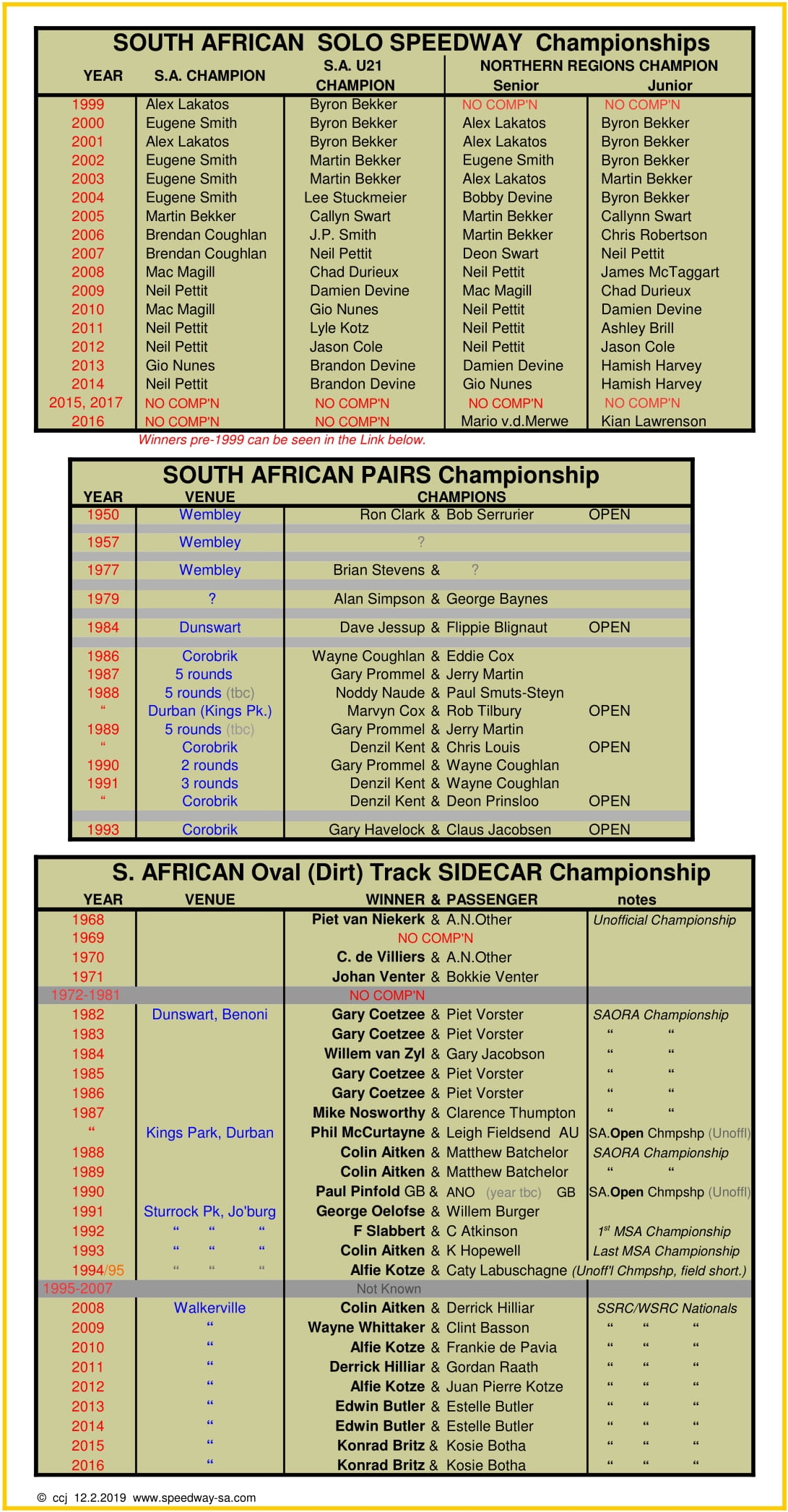 A fuller list of all S.African champions, 1935 to date,
- National Champions, 1935 to date; - S.A. Open Champions, 1955 - '95;
- Match Race Champions, 1948 - '94; - Southern African Champions, 1973 - '80;
and many more can be found in detail
here
.
ALTERNATIVE CHAMPIONSHIPS
In 2005 the disbandonment of the NSA (National Speedway Assoc'n) resulted in two camps, - SSRC, (Southern Speedway Riders Club,) encompassing Walkerville/Glenvista, Rustenburg, Wembley and Kimberly,) and TVSC (Thunder Valley Speedway Club,) at Brakpan - , taking entrenched positions and operating independently of each other in the following season.
Beside the championship winners of the SSRC (later to become WSRC) given above, TVSC also initiated 2 championships alongside each other, with points being accumulated at each Brakpan meeting in 2006. The competition is believed to have petered out after 3 or 4 meetings and never completed. After 3 rounds the TVSC championship tables read as follows:-


2006 TVSC S.African Nat'l Championship,
(for the Hansie Kleynhans Trophy):
Ian Hutchinson 27 (6, 10, 11)
Lee Struckmeyer 18 (4, 8, 6)
Hansie KleyHans 17 (4, 6, 7)

2006 TVSC Northern Regions Championship:

Ian Hutchinson 28 (6, 10, 12)
Hansie Kleynhans 20 (6, 7, 7)
Clive Hutchinson 14 (3, 5, 6)
SOUTH AFRICAN SPEEDWAY PANORAMA
Magazine-type speedway articles and interviews have been collated in this
Speedway Panorama
,
supplemented with others covering speedway in both the Union and the Republic from 1930
to the present day.
~ ~ ~ ~ ~ ~ ~ ~ ~ ~ ~ ~ ~ ~ ~ ~ ~ ~ ~ ~ ~ ~ ~ ~ ~ ~ ~ ~ ~ ~
MEMORIES OF 1956/'57 BY A WEMBLEY LION

Peter Williams was a member of the UK's Belle Vue Aces team when he was invited to join the Johannesburg Wembley Lions for a season in the Union alongside his one-time Aces team-mate Henry Long*, the Lions' skipper, for the 1956/57 season.
After 56 years the two have recently (June 2013) been in touch again by 'phone, recounting old times, thanks to 'Speedway South Africa' reuniting the pair, which prompted PW to dig out some old photographs of the day, now to be seen on the
Gallery p.1
: 1946-60 page, (scroll down.) They include formal line-ups of the Springboks and England test match teams that season, when the pair were on opposing sides, plus informal snaps taken at Wembley and as riders of the day moved around between Jo'burg, the Cape and Southern Rhodesia.
*
Henry Long: His full career biography is presented here.
~ ~ ~ ~ ~ ~ ~ ~ ~ ~ ~ ~ ~ ~ ~ ~ ~ ~ ~ ~ ~ ~ ~ ~ ~ ~ ~ ~ ~ ~
THE DAVE COLLINS SAGA

Dave Collins has the rare distinction of having ridden in speedway Test Matches for both South Africa and for England, having started riding speedway in the Union but being UK-born. These included both sides of the 1956/'57 series after England lost Alan Hunt and he was re-allocated from the SA squad to the visitors team. He had winter spells in Europe during the '50s and '60s, riding in Holland, France, Spain and Gt.Britain, and he captained the winning England side in an unofficial 3-match series at Goodwood Showgrounds, Cape Town, in 1967. Now at 88, Dave Collins lives in Munster, KwaZulu-Natal.
The
attached article
follows from an interview a few years ago by British speedway journalist John Hyam, and published jointly here and on the Defunct Speedway website in August 2015.