Arthur '
Buddy
' Fuller "Mr Dirt Track Oval"
In 2003 Buddy Fuller received a Lifetime Achievement Award from Motorsport South Africa :
Citation: "Buddy Fuller: Mr Speedway, Mr Hot Rod, Mr Oval, or just plain 'Buddy', Buddy Fuller is know by a thousand names but answers to only a single passion, motorsport. After an involvement lasting almost 70 years, he is recognized not only as one of South Africa's most successful speedway riders but as the doyen of oval track racing promoters."
Arthur John 'Buddy' Fuller was born in Heidelberg, 30mls south of Johannesburg, on 13th January 1916, moving to Joburg as a teenager. Bought a 500 Norton by his father, at age 19, he took part in his first DJ Run, (Durban-to-Johannesburg,) but made his mark in speedway, debuting at the Old Barn Track near Alberton in 1938. He won the Harlequins Club's championship, the Diamond Shield, in 1939, and in 1939/40 took the South African dirt track championship at the Old Barn, retaining the title there on the rebuilt track in 1946.

Buddy raced with 350cc and 50Occ Nortons at all the major events in the country. His greatest success in this sphere came in 1942 when he scored a double '350-500cc class' scratch race win at the Waverley tar circuit near Pretoria.
Having worked as a bus driver, during the war Buddy Fuller signed up with SA Air Force as a mechanic, with tours in Madagascar, Egypt and Italy. In Italy he built dirt track bikes from parts for Sapper speedway meetings that he also took part in, and when hostilities ceased, rode 1,750 miles across Europe in 11 days to reach Britain.
Back in SA, Buddy won his Springbok colours in 1948 in the speedway Test Match series against England, the first of what were to be 23 representative appearances for South Africa, 13 as captain. Buddy was instrumental in introducing speedway to Wembley Stadium in Johannesburg in 1948, where he claimed a third national title that year. He also became founder and Chairman of the African Speedway Riders' Association. On the track, Buddy remained at the forefront, but riding for the Hastings Saxons in the UK, he crashed in one match and was struck by a following rider, suffering a fractured skull, broken jaw and partial paralysis of the right side of his face. Unconscious 3 days, it took him a year to recover: doctors recommended that he retire. Buddy decided otherwise.
As well as motorcycle speedway, Buddy was instrumental in 3- and 4-wheeled speedway. He introduced stock car racing to South African in 1955 and drove regularly. In 1956-57, Buddy launched his 'Cavalcade of Speed' comprising speedway, stock car racing and stunts at venues countrywide. The stunts led to the formation of the Hell Drivers stunt troupe. His 1959 "Buddy Fuller Motor Variety Show" at Wembley was a combined speedway and stock car show, with a Jnr. and a Snr. South African speedway championship, (won by Henry Long.) Staged in conjunction with the Rand Daily Mail, it included their 'Man v Woman' driving competition to win a new car.
Buddy became founder Chairman of the South African Hot Rodders Club, and with Wembley tarred over he imported American V8 sprint car racing in 1966. Buddy also became involved in drag racing, imported a dragster from the UK in partnership with Brian Murray, with whom he formed Fulray Racing. As interest in solo speedway returned he ripped up the tar in 1972 and invited over riders from the States for full SA v. USA Test Match series in the '70s and '80s.
Buddy introduced modified saloon oval track racing and Australian side-car speedway to South Africa, with test matches against British teams, and even held the first Supercross race in the country, in New Kingsmead, Durban in 1986. Buddy Fuller continued to stay involved in motorsport through the 90's, first running the Brakpan oval and then becoming involved in a
revival at

the new Wembley Oval.
Buddy Fuller died aged 89 at the WITS Old Age Home in Johannesburg on May 9th 2005. A memorial service was held at the Doves Chapel in Braamfontein on May 11th. After the service, oval track enthusiasts transferred to the Wembley Raceway in the south of Johannesburg to witness Laps of Honour by sprint cars and speedway riders. As per Buddy's wish, those attending, - many as seen in the photograph below - , partook of R1,000 worth of beverages for free, - a 'one last drink' on Buddy!
CCJ 1.4.2019

Lt.>Rt: Dudley Bekker, Dennis Newton, ? , Fred Wills, ?, Colin Aitken, (4 unknown,) Noddy Naude,
Boet Strydom, Henry Long, Arthur Bruins; knlg Denzil Kent.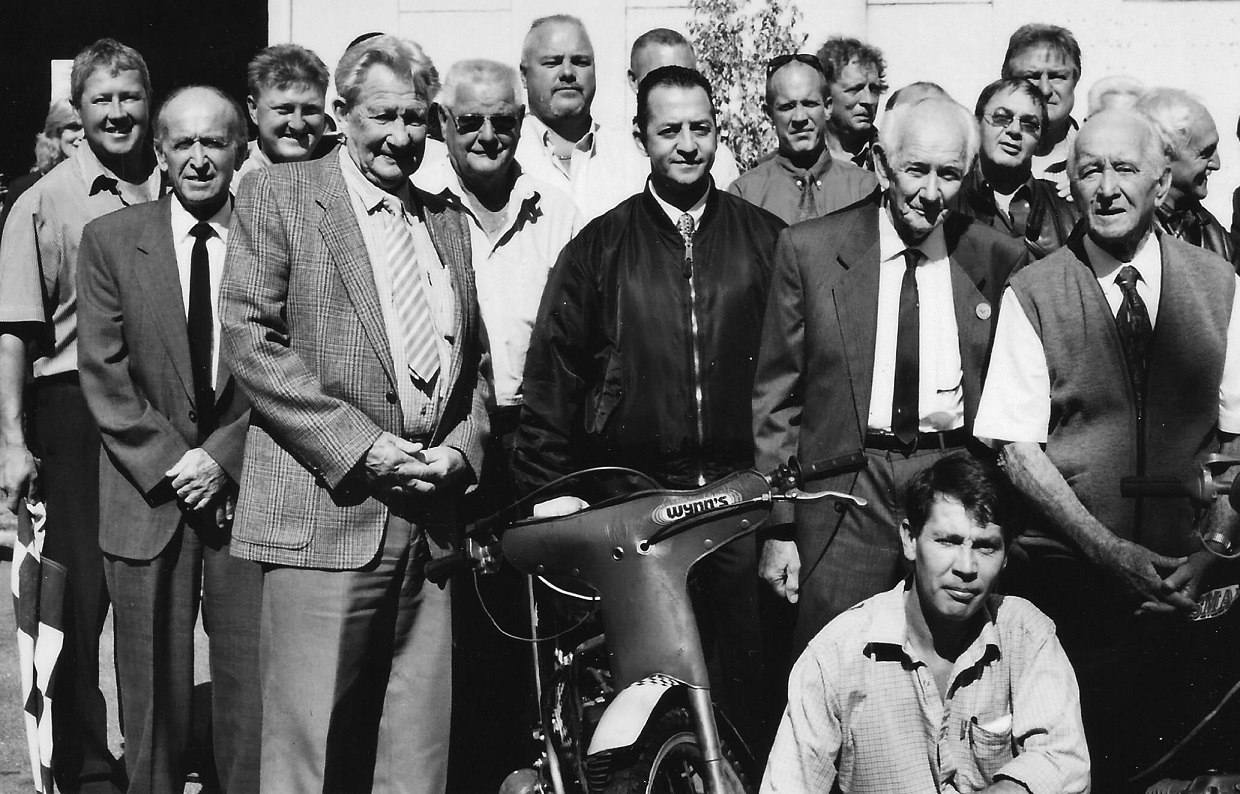 - Buddy receiving a trophy from an excited female fan, Wembley, c.1948;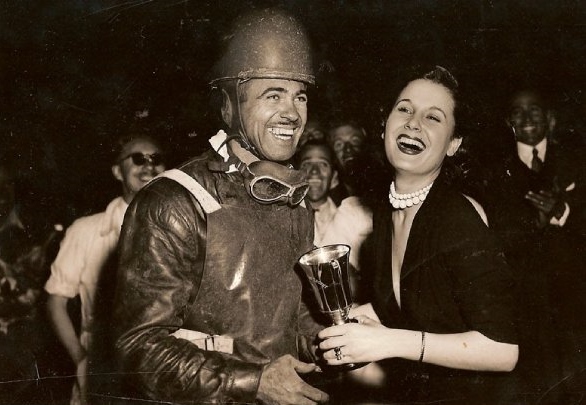 Buddy,
arm in a sling from an earlier track injury, adjusts the carb of
Alec Blankfield
at Wembley, c.1951.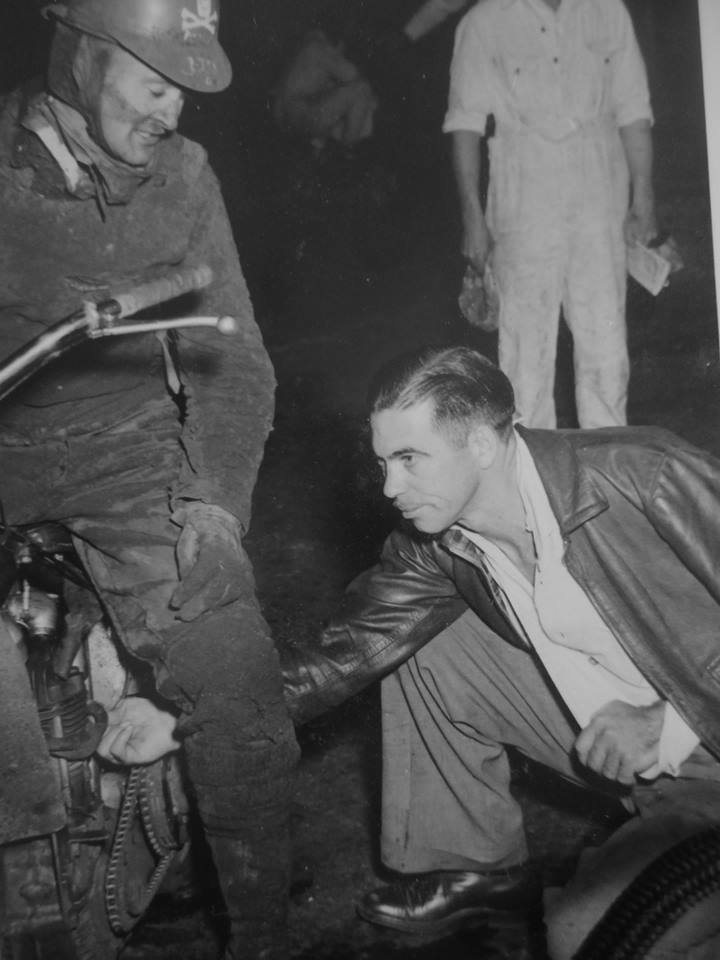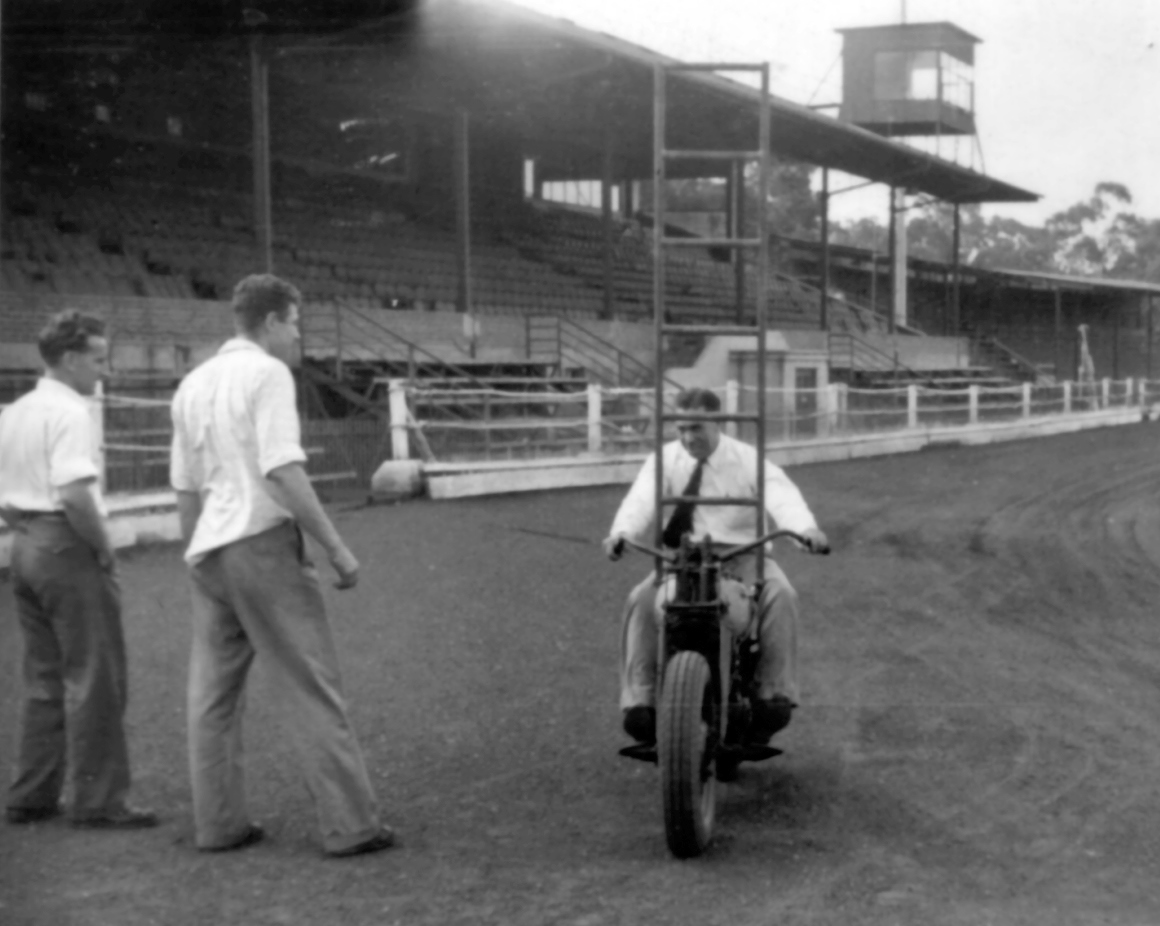 Interval attractions, . . .
. . .
Fuller
tries out a stunt bike at Wembley in 1956.
The Passing of Buddy Fuller, "Mr. Oval Track", 2005
Below is the obituary that appeared in 'The Citizen' on the death at 89 in 2005 of Buddy Fuller, the great motorsport promoter and one-time Springbok speedway champion and national captain. Shown also is a poster specially produced in his honour by the many appreciative riders & drivers that rode for him, - several seen above at the gathering for the service - , and an image of the old Wembley Stadium where so many of the events that he organized, dirt-track and tarmac, 2-, 3- and 4-wheeled, were staged.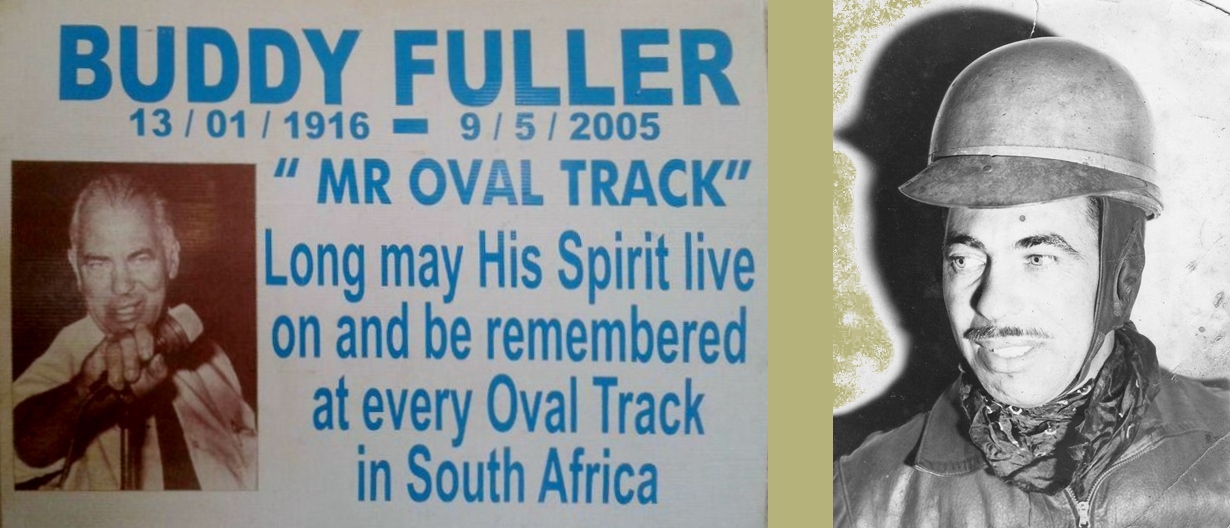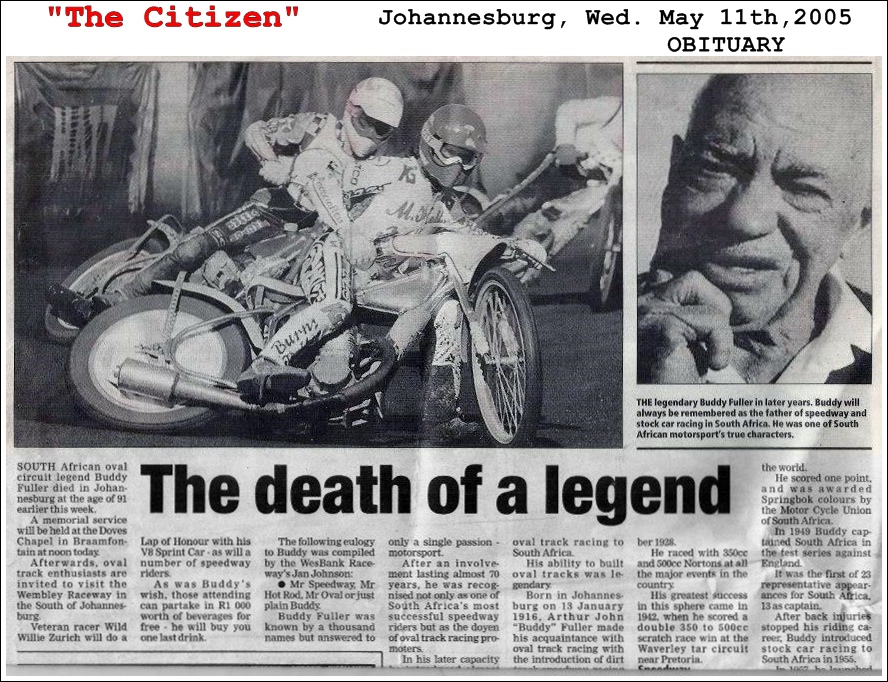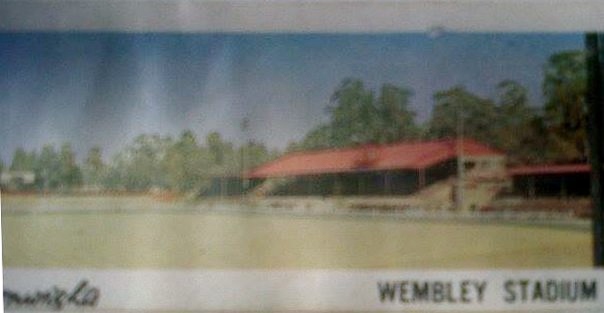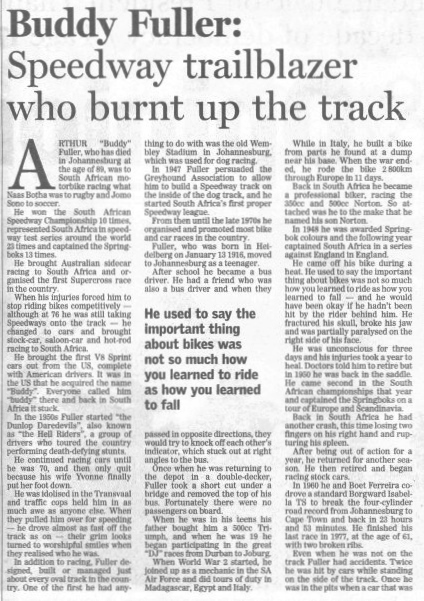 Buddy , - in his prime . . . . . . and in his latter days, (with his grandson.)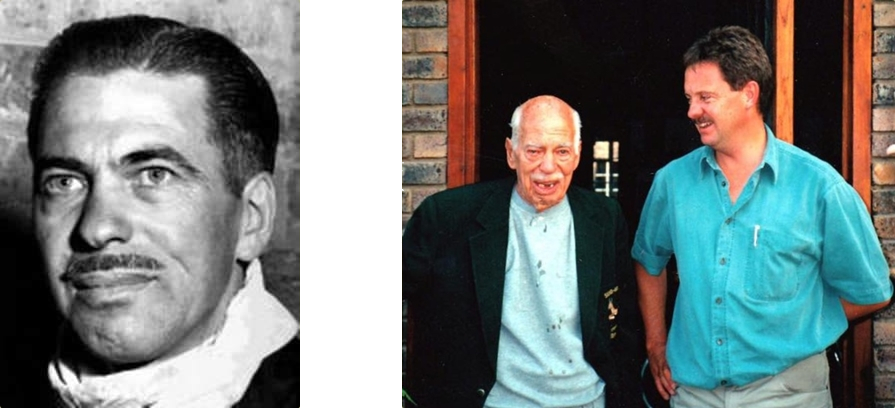 ......................................................................................................................................................................................

Gallery p4