n GALLERIES


Gallery p.4 PRESENT Gallery p.5 Teams
Brief narratives are also given alongside many of the images.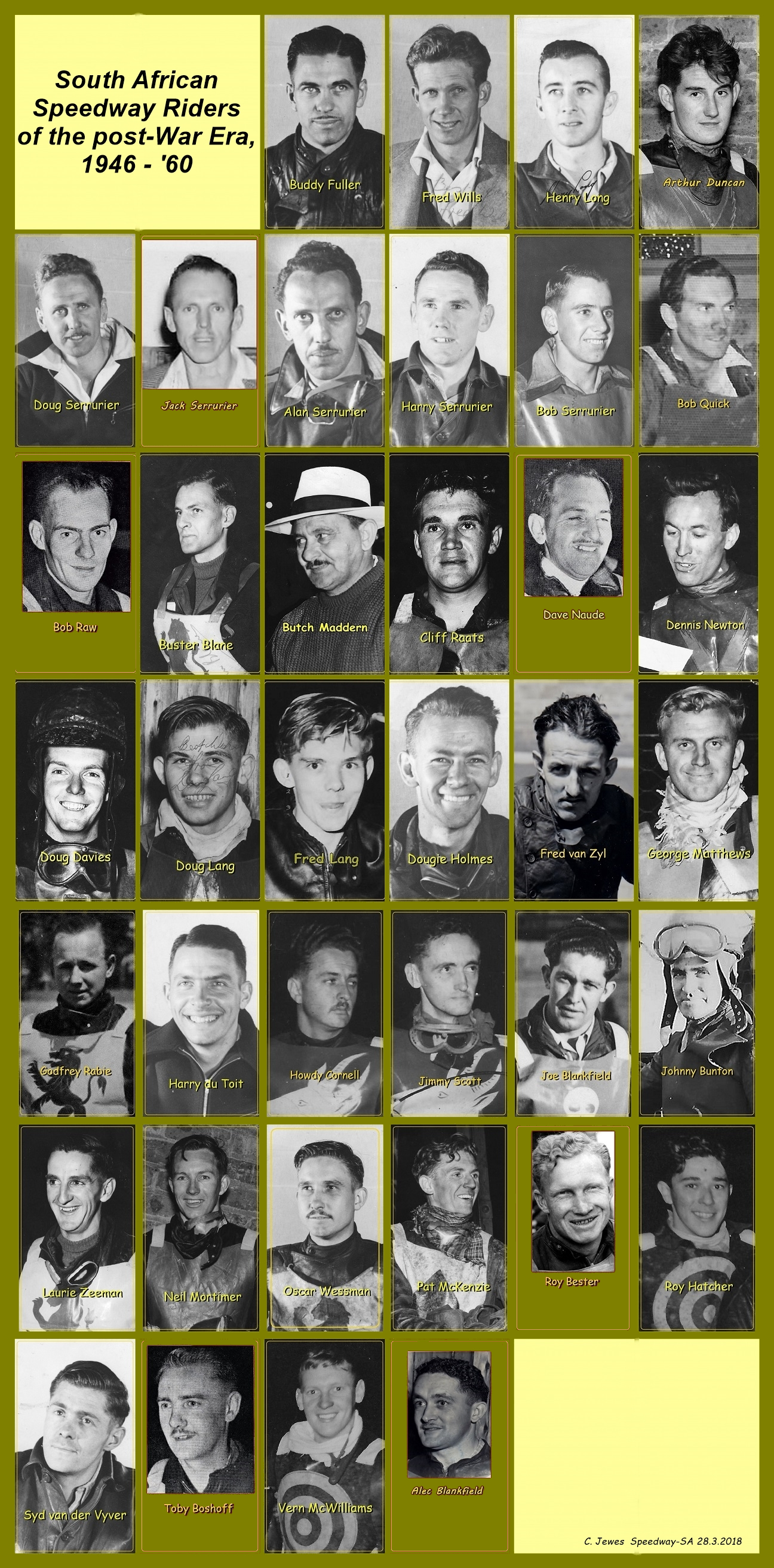 S.Africa v. HOLLAND 1950/51.
This is the Dutch team that took part in the test match series against South Africa at Wembley, Jo'burg in 1950/51. The Union team won the series 5-0, but the tourists were more successful in their other club matches at Bloemfontein, Klerksdorp and Boksburg. (Full results can be found via the link on the History page.)
Seen below, smartly turned out, - note helmets all uniformly presented to show their national flag, though the race jacket is that of 'The Windmills' team - , they comprised L>R: Wim van Hemelrijk, Gerrit Jonker, Jan Bosman (on bike), Bert Willard, Thei Bisschopps, Henk Dammers; Kneeling L>R: Joop Nolten, Tinus Metzelaar. They were later joined by Henk Stemen.
Below is the S.African team that recipricated this Dutch visit in the following June, July, Aug. '51.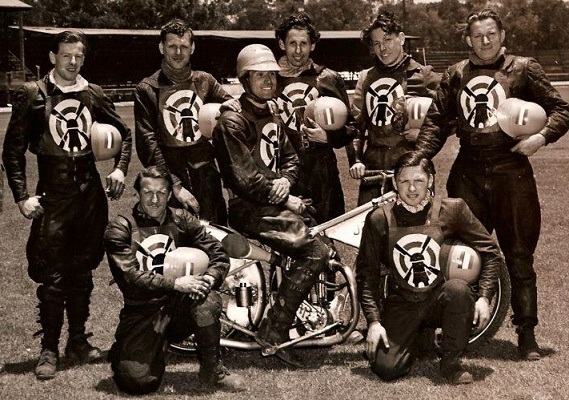 Rider Introductions, 1950-style: The Dutch Test team are introduced to the spectators at Wembley.
South African Touring Team of Europe, 1951
A 7-man SA team toured Holland, Denmark, Sweden and Norway in 1951, led by Buddy Fuller,
and rode in 18 matches over 10 weeks. Full tour results.
Standing (lt. to rt): Toby Boshoff, Alec Blankfield, Buddy Fuller (on bike), Harry du Toit, Bob Raw
Kneeling: Maurice Fenton (left), Joe Blankfield.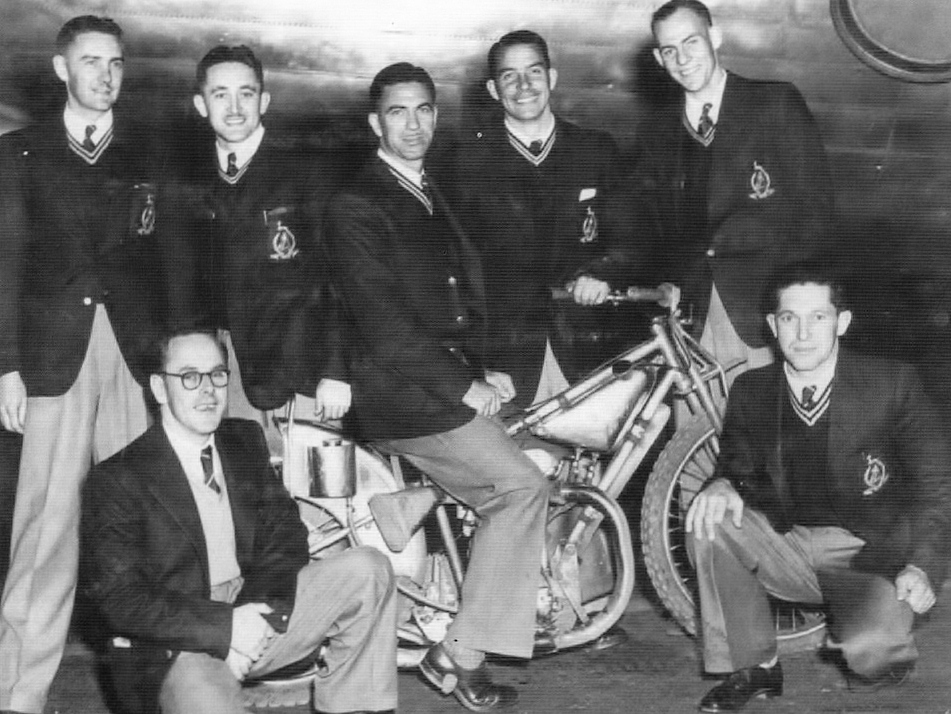 Springboks in Europe, 1951
A rare photo from the Springboks' only tour of Europe in 1951
This pits scene shows Joe Blankfield, Toby Boshoff, Buddy Fuller and Bob Raw working on their new JAPs (bought en route in London,) at Fyens, nr. Odense, Denmark; result: Fyens 37, S.Africa 45. Behind them is the 1933 bus bought for £175 on arrival in The Hague, and sold off for £100 at the end of the 2 month tour.
Full tour results
.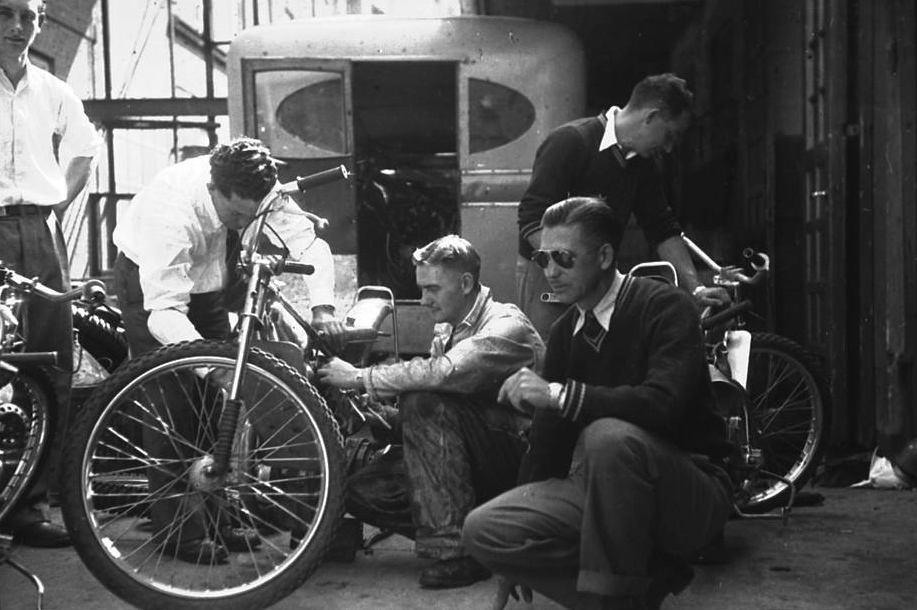 Buddy Fuller championing Castle beer,
after returning from the European tour of 1951.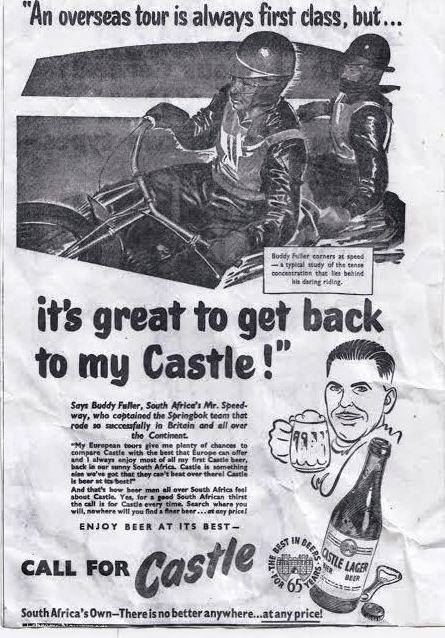 Ken Middleditch and Alan Chambers, 1950.
Chambers was top scorer for England in the 1949 Test Match series but the next season he was an SA citizen riding for the Union against his former team-mates.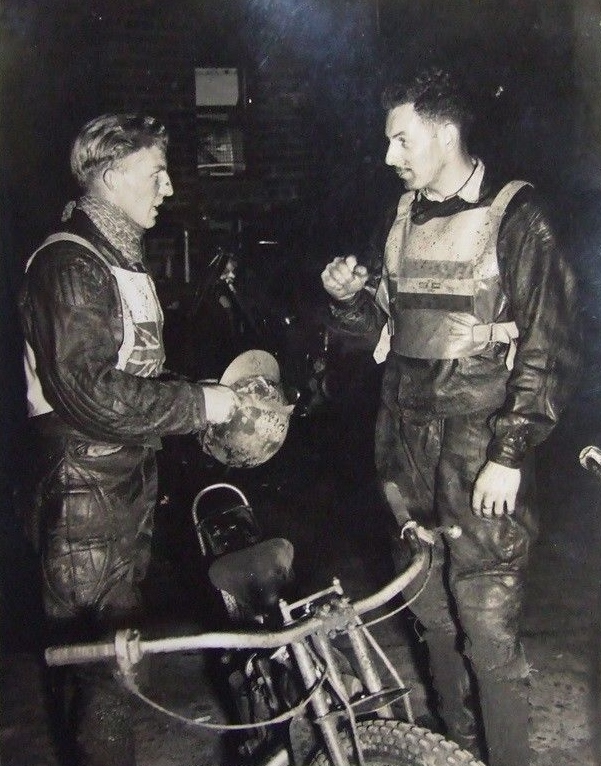 Action from the 2nd Test, S.Africa v. England, @ Dunswart,
Jan. 8th 1949.
- Buddy Fuller outside Ken Middleditch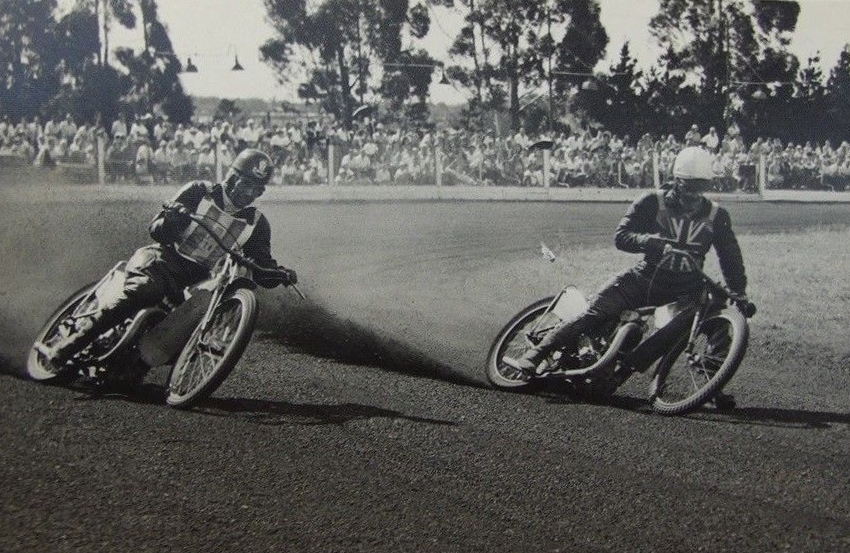 BUDDY FULLER

- Buddy receiving a trophy from an excited female fan, Wembley, c.1948;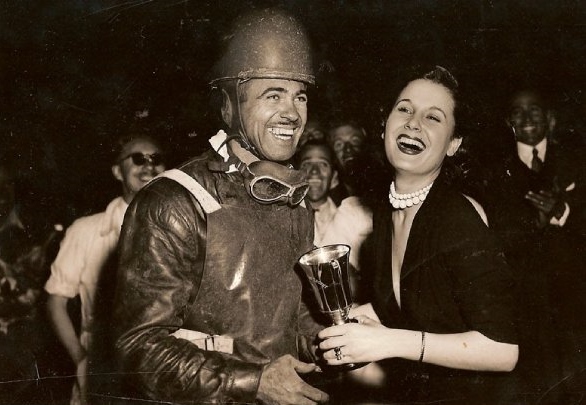 Buddy,
arm in a sling from an earlier track injury, adjusts the carb of
Alec Blankfield
at Wembley, c.1952.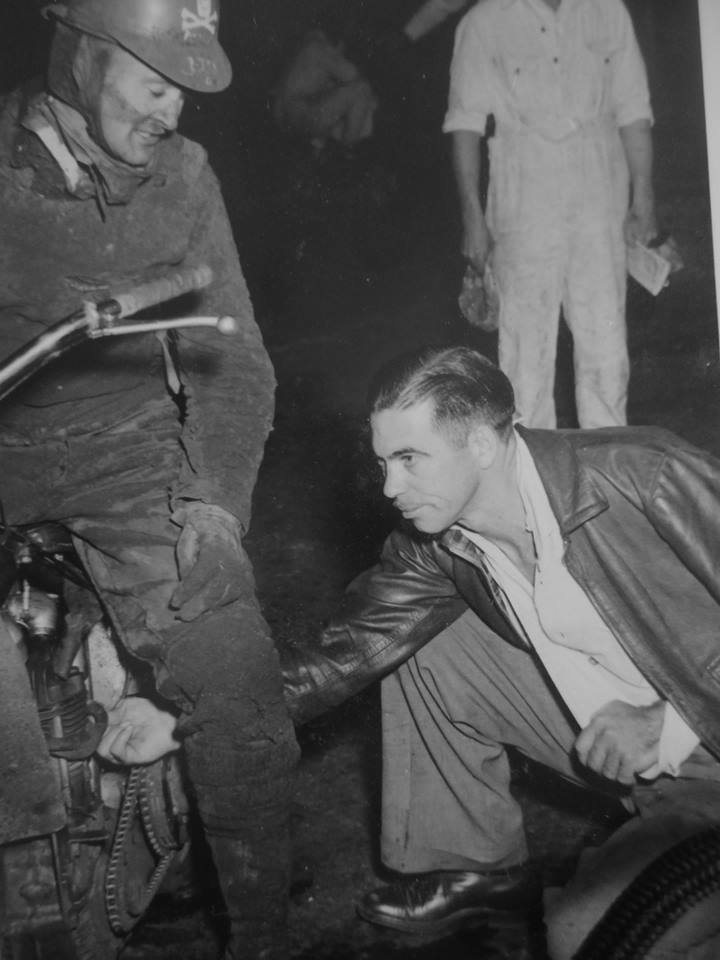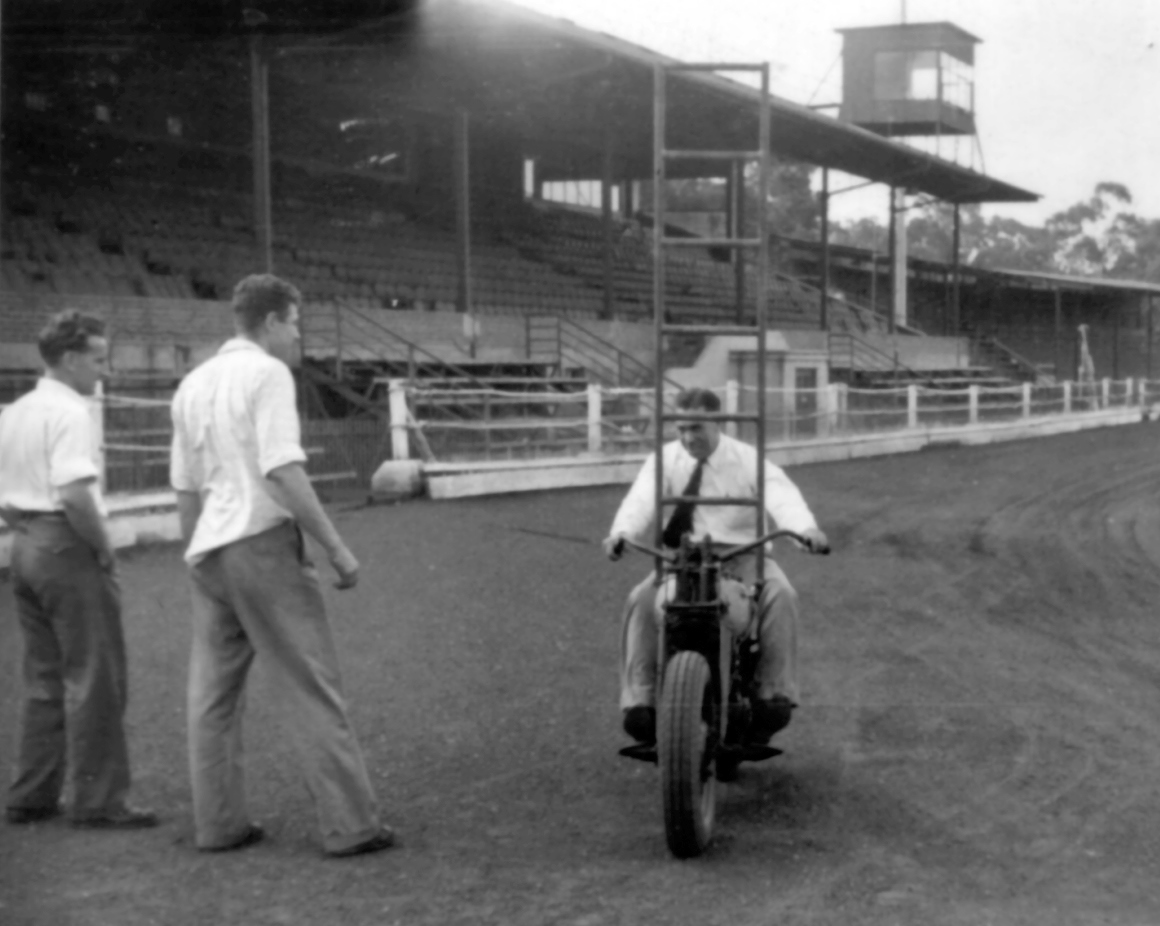 Interval attractions, . . .
Fuller
tries out a stunt bike at Wembley in 1956. But who is the rider atop the ladder in front of the crowd?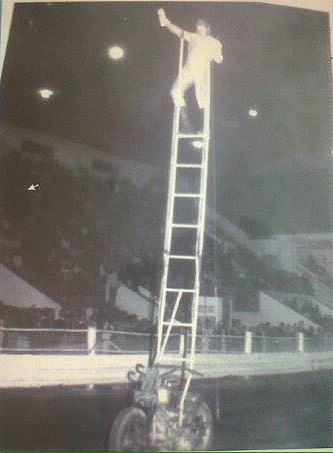 SPRINGBOKS IN UK

1949: Springboks at Liverpool, UK, - Wills, Serrurier, Fuller, Duval.
.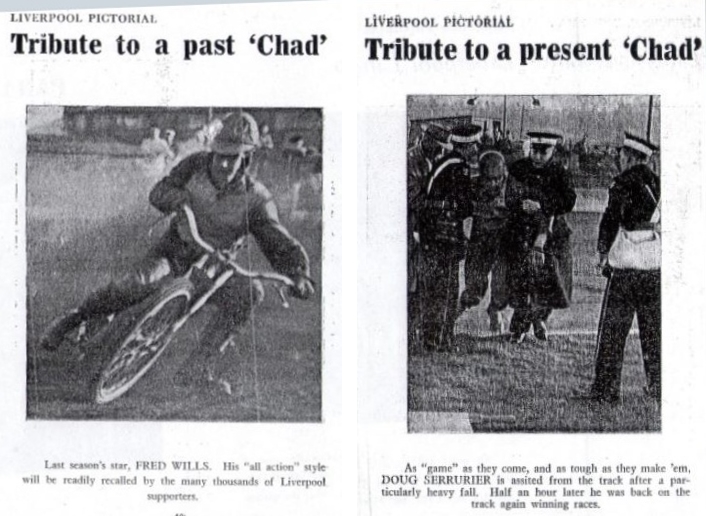 The big 440yd. Liverpool track of the Stanley Stadium, seemed to have proved an attraction to South African riders.
Fred Wills
rode in the Chads' post-war re-opening team match of 1949: he followed home
Doug Serrurier
in the Scratch Race Final, and as reward, Doug joined Fred in the team for their next return match away at Stoke!
In 1950
Buddy Fuller,
making a return to racing after fracturing his skull with Hasting the previous year, replaced Fred Wills, but the SA Champs' form was never the same, and he returned home in August. (See the team photos on the page
Gy.p5
.)
Adopted Springbok, but London-born,
Reg Duval
was a Chad team-mate of Wills and Serrurier in 1949, his first season of racing, and alongside Serrurier and Fuller, went on to become the Chads' top scorer in 1950. A year later he was part of the 'Overseas' Test squad that traveled to South Africa in '51/'52, and as a Germiston Star, was top point scorer amongst visitors riding in the Transvaal League. He made many subsequent trips to the Union to ride in the SA National Lge, appearing regularly throughout the '50s and '60s. He retired from racing in 1974 but continues to be semi-resident in South Africa to the present day.
Point scores in UK Nat'l Lge. racing. (L =Liverpool, H =Hastings, S =Stoke; 1949>'51 =Div.3, 1952 & '53 =Div.2.)
'BOKs 1948 1949 1950 1951 1952 1953
B.Fuller H.42 H.181 L.36 - - -
F.Wills - L.179 - - - L.77,S.31
D.Serrurier - L.241 L.158 - - -
R.Duval - L. 49 L.232 L.202 L.255 -
. ~ ~ ~ ~ ~ ~ ~ ~ ~ ~ ~ ~ ~ ~ ~ ~ ~ ~ ~ ~ ~ ~ ~ ~ ~ ~ ~ ~ ~ ~ ~ ~
Doug Serrurier
at Liverpool, UK, in 1949 & 1950, - extracts from a programme.

........................................................................................................................................................................
Henry Long, flanked by the legendary Jack Parker, his Belle Vue skipper,
and Miss Alice Hart, Belle Vue mgr, 1951.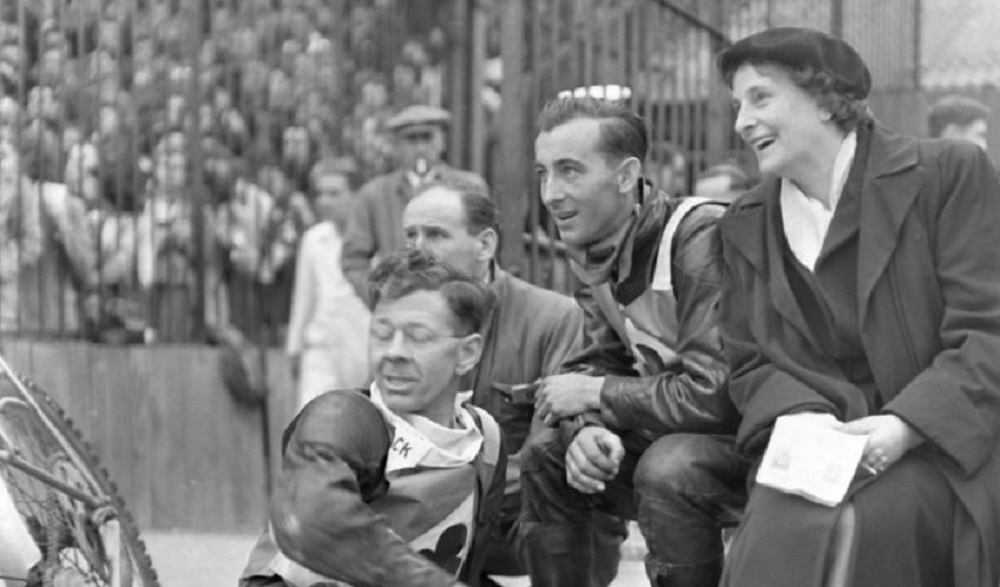 L> R:
Henry Long
, Arthur Payne, Alan Hunt (hidden), Ken Sharples,
- Best Pairs @ Harringay 10.8.1951.
Doug Davies
leads future World Champ Ove Fundin at Norwich in 1955.
Back at The Firs, Norwich in 1956,
Doug Davies
is seen here leading the Stars' Billy Bales.
Doug Davies
, seen in Brummie colours in 1956, the year he finally made it to the
Wembley, London, World Final. (He qualified in '55 but meningitis forced him to miss out.)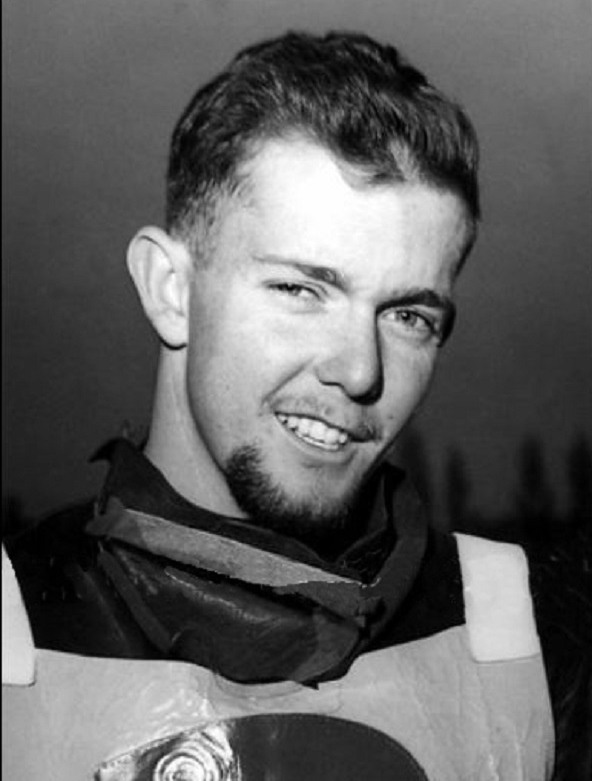 Doug D. with Brum, 1954-'56; with New Cross, his only other UK club, in 1961.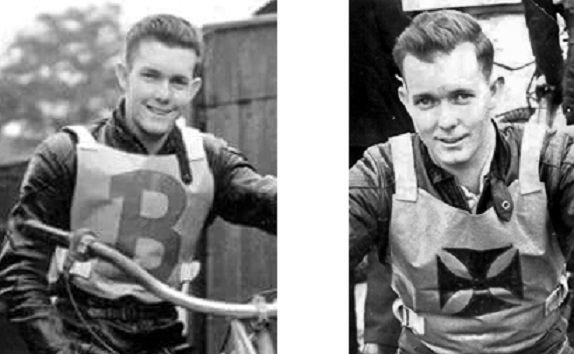 Dennis Newton in Spain, c.1960 Henry Long in Manchester, 1951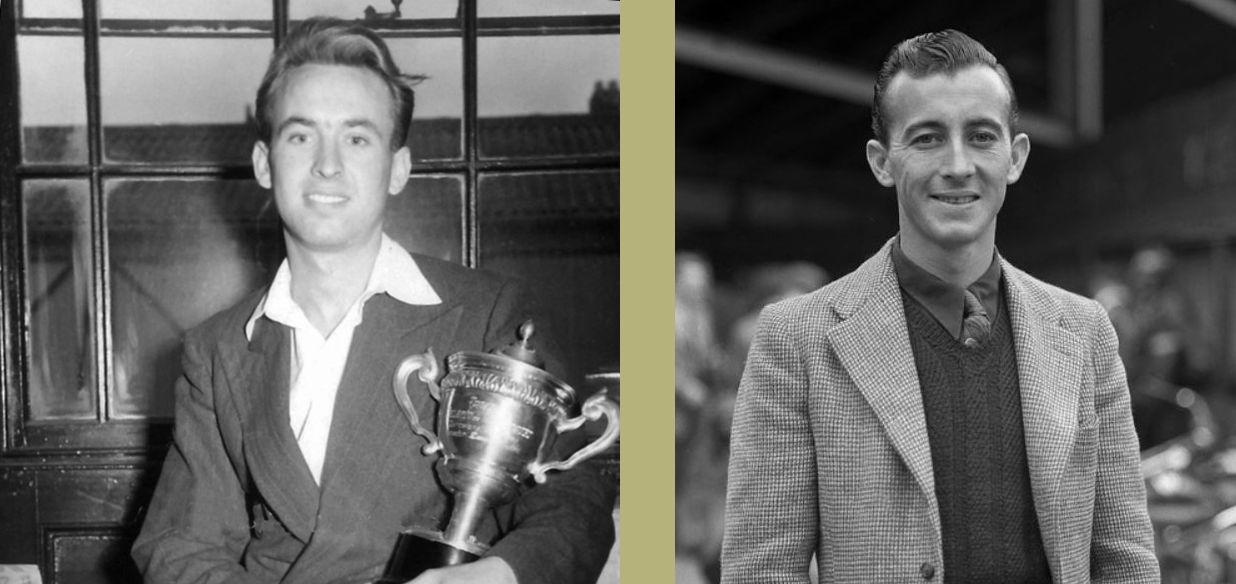 Howdy Cornell
Front page of the UK Speedway Star & News of Feb.13 1960, showing Howdy Cornell, with a report as follows : -


"Springbok in Demand. Chances are that South Africa's newest speedway star Howdy Cornell will be joining Norwich this year. The Springbok has graduated to a top rating in the Union during the past 3 years and is regarded as being a certainty for future international honours. Confirmation of his signing by the [Norwich] 'Stars' is expected soon. "


In the event, Cornell didn't make it to Norwich, nor to the UK for a further 2 years, when he eventually joined former Springs promoter and team mate of the '56/'57 Control Board Lge, Trevor Redmond, who had opened up Neath in South Wales to race in the Provincial Lge. of 1962.
The Neath 'Welsh Dragons' came runners-up in the second-tier UK league, Cornell averaging a creditable 7.44pts from his 20 appearances, his one and only excursion to the UK. Despite their success on the track, a number of rained-off meetings and poor support through the turnstiles caused the Dragons to complete their scheduled fixtures at Redmond's other track, St. Austell in Cornwall.
For the following season the promotion transferred the bulk of the squad to St.Austell but Howdy stayed at home.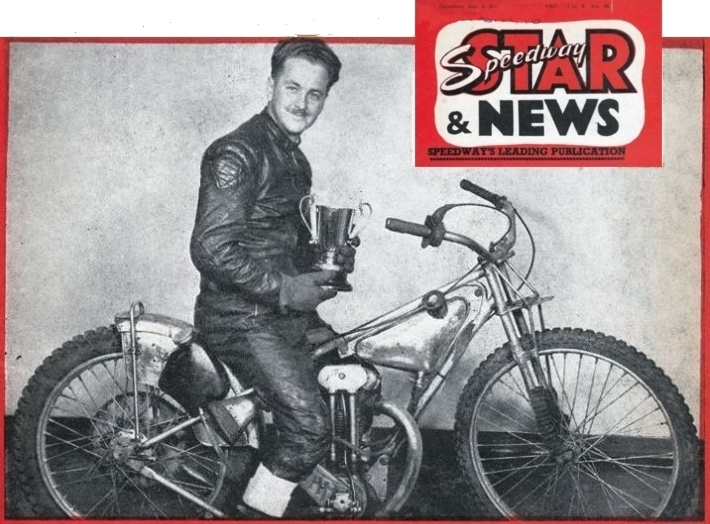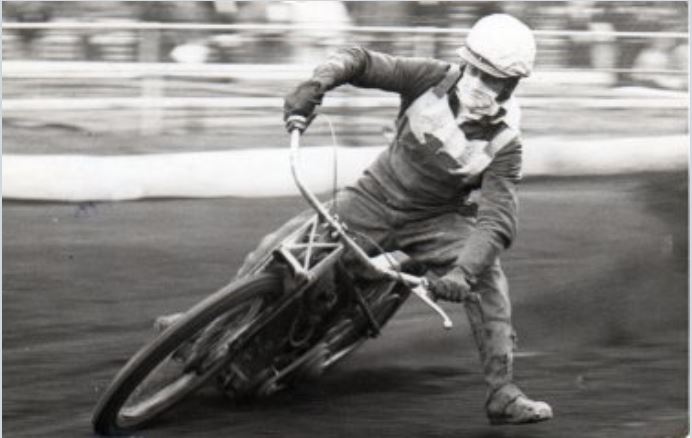 Ace
Pat McKenzie
racing for the first bend at Wembley against a Lion and a Springs Star, c.1955.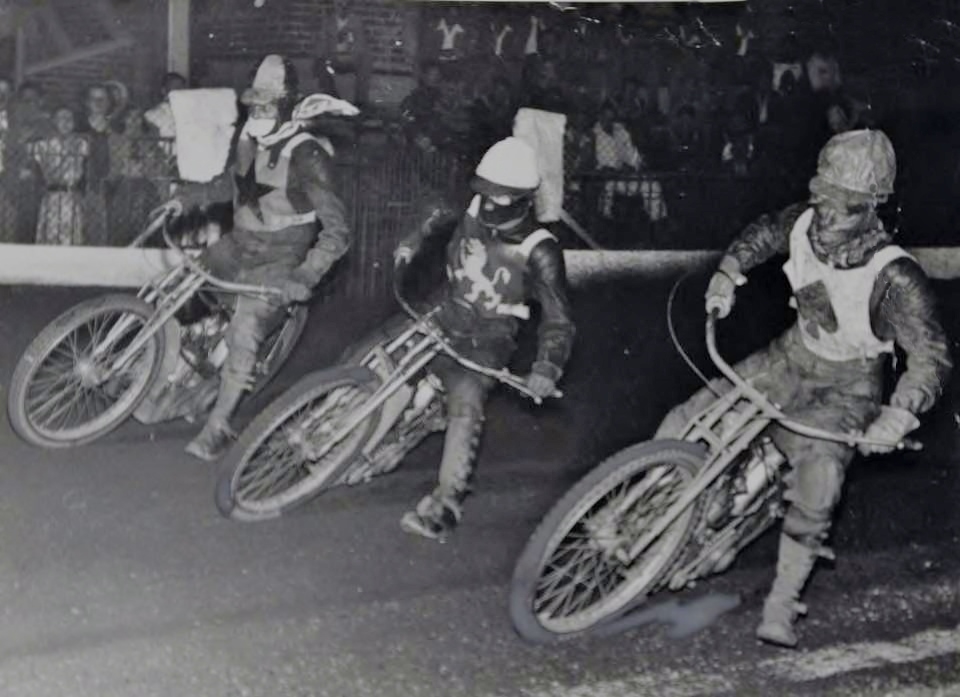 Syd van der Vyver
"South African car racing legend Syd van der Vyver c.1950, in earlier speedway mode. Syd rode for Leicester, UK, in '49 and also wore South African colours in tests. He was also a stunt rider for Putt Mossman when the American brought his circus to South Africa just before WW2. He retired in 1953 and turned to car racing. He also went into partnership in a Durban garage with New Zealand speedway rider Dick Campbell, when both raced Formula Three cars."
"A speedway yarn about Syd worth sharing. Prior to moving to Durban in the early '50s, Syd was in charge of the workshop at Wembley Stadium (out of sight of the spectators) maintaining and repairing the bikes. At the opening meeting (28 Nov.1947) several male spectators stopped going all the way to the gents and used the pit wall as a urinal. Syd nipped into the workshop, rigged up a spare generator and ran a cable along the pit wall. The practice stopped as quickly as it had started."
Like his fellow countryman, the 1950s Liverpool star Doug Serrurier, Syd is also a South African motor sport legend, although mainly for car racing. Ken Macleod said that on four wheels van der Vyver was twice South African Drivers champion and in international races in South Africa he did did very well against legendary stars like Stirling Moss, Jack Brabham and Jim Clark.When van der Vyver died aged 69 years in 1989, a little known secret about him came to light. Although he was known as Syd, his first name was found to be neither Sidney or Sydney as one might expect but was in fact Siegfried."
(This and the above 'pre-war' scripts and images courtesy of Ken MacLeod, & John Hyam.)



........................................................................................................................................................................


Doug Serrurier c.1954.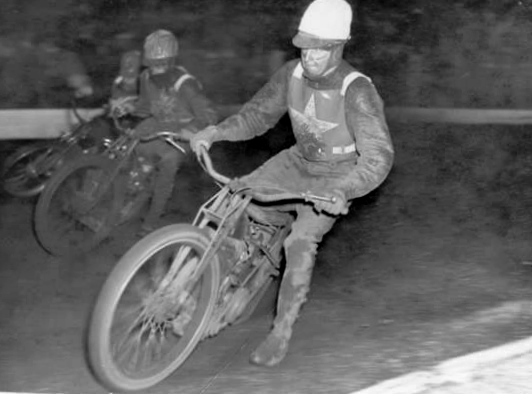 ..........................................................................................................................
......................................
Trevor Blodyk
, a UK Poole Pirate of 1958 & '59
Bob Raw
, Pretoria Tiger of 1950/51 & '51/52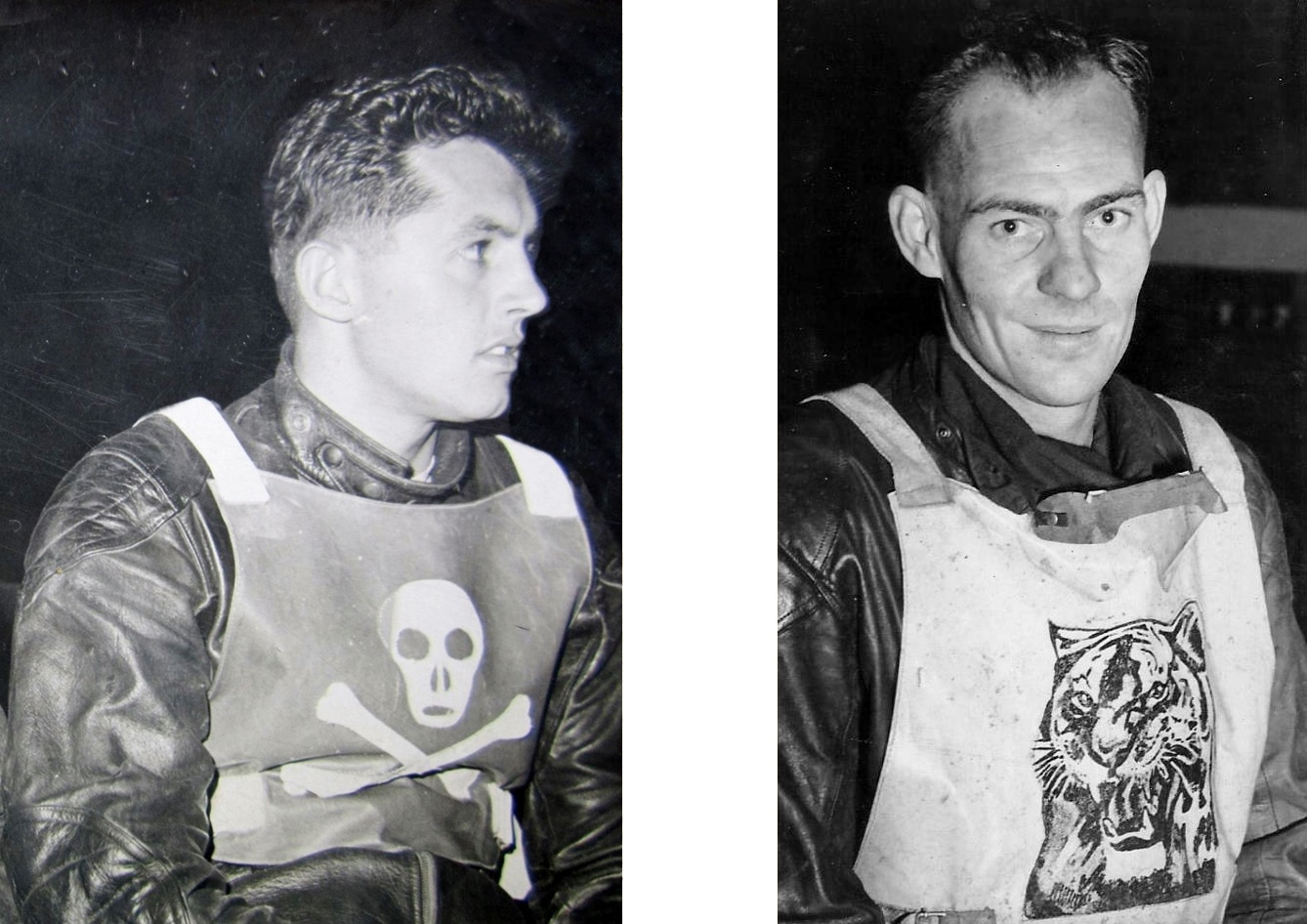 More 1950s Speedway Action
1951/52: Ht.1 of 2nd S.Africa v. Overseas Test at Wembley Stadium, 11 Jan.1952.
L>R: Doug Serrurier, Ken Middleditch, Henry Long, Tony Lewis. Long won and a set a new track record of 75.4s; Lewis 2nd, Midddleditch 3rd. Overseas won 62-45 and took the Series 3½-1½.



1956/57: Ht.1 of the 6th S.Africa v. England Test at Wembley Stadium, Jo'burg. L>R, Eric Boothroyd, Henry Long, Jim Lightfoot, Arthur Duncan. Long won from Boothroyd and Lightfoot. SA won 57-51 to level the series at 3-3, but England took the final test at Durban to come out on top.



LT: London-born Dave Collins with British riders' representative, Vic Ridgeon. Collins started his racing in the Union, and had the rare distinction of riding for both the Springboks and England.
RT: S.African Fred Lang as a UK Wembley Lion, photographed there in 1954.


PRE-WAR RIDERS

Keith Harvey, South Africa's first Dirt Track rider.
The 2 photographs below show South African Keith Harvey in the team bibs of his last 2 UK teams, immediately before and after WWII, - Norwich Stars (1939) and New Cross Rangers, (1946,'47.)
Harvey had started Dirt Track racing at the start of the sport in Europe, - 1928 - , when he joined Crystal Palace (outer London) following rally and road-racing exploits at home, (he never rode speedway in the Union.) He was to be the last skipper of the Palace "Glaciers" when they re-enter league racing in 1939, but on its closure mid-season he transferred to Norwich.
He'd been a regular double-figure scorer for the Palace, and top-scored for them at The Firs, (Norwich) in their last match on July 1st, as poor crowds closed Crystal Palace, so the Stars would have been happy to see him join the East Anglian side. At the Firs, riding at No.4, leg-trailer Harvey, (note the knee hook in the NX shot,) couldn't reproduce the same form, his best at home being 7pts against Newcastle, then 11pts away at Hackney Wick in mid-August. After the war, he joined New Cross (south London,) closer to his Stockwell motor-cycle business, but at the age of 50 was struggling to keep a team place and retired during the 1947 season.
He eventually returned home to Natal in the '50s, where he would often turn out to watch Durban Hornets race, and passed away in 1972, being buried in his home town at Verulaam.

Stan Collins: " South Africa's first speedway star, the first Southern African to ride in a league match,(Warrington, Northern Lge, 1930,) Stan Collins was one of the first two to feature in Championship in the UK, South Africa's first test captain, (v. England, Dec.1930,) and the first South African champion (Mar. 1935.) Picture courtesy of John Hyam.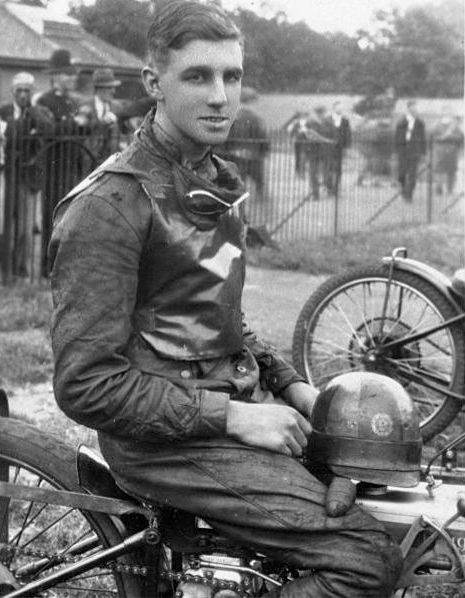 Alan Reeve: "AR was the first Southern African to ride in an international representative match. (The Colonies v. The Homelands, Exeter, 1930). These were not test matches, being over only four heats, but they are regarded as significant in speedway history. He rode for South Africa v. England in December 1930 and later finished runner up to fellow Pretoria rider Stan Collins in the first South African speedway championship. Later Reeve combined speedway with road racing, winning his class in the 403 mile Durban-Johannesburg race and the 1937 South African Junior TT at East London. Tragedy struck a month later when he was returning home on his racing Norton after finishing second to Joe Sarkis in a 350cc scratch race at Earl Howe circuit, Johannesburg. He was involved in a head-on collision with a car being driven on the wrong side of the road and succumbed an hour later. It's a measure of his popularity that three road racing circuits in the Pretoria area were named in his honour.
The Exeter event was a one-off meeting, Reeve being based at Crystal Palace, but there are no reports of him making the team. Another South African, Willie Michaletos, (who rode in UK as Willie Nicholas,) also rode at Exeter that year in an open meeting, reaching the handicap final, but the Exeter papers only give the first two places. According to his obituary he was a member of the Crystal Palace team, but is not mentioned in reports of their matches so must have been a number 8, (-?). He was killed in a road accident near Andover while returning to London when the truck carrying the bikes and riders overturned on an S-bend."
Cecil de la Porte in 1936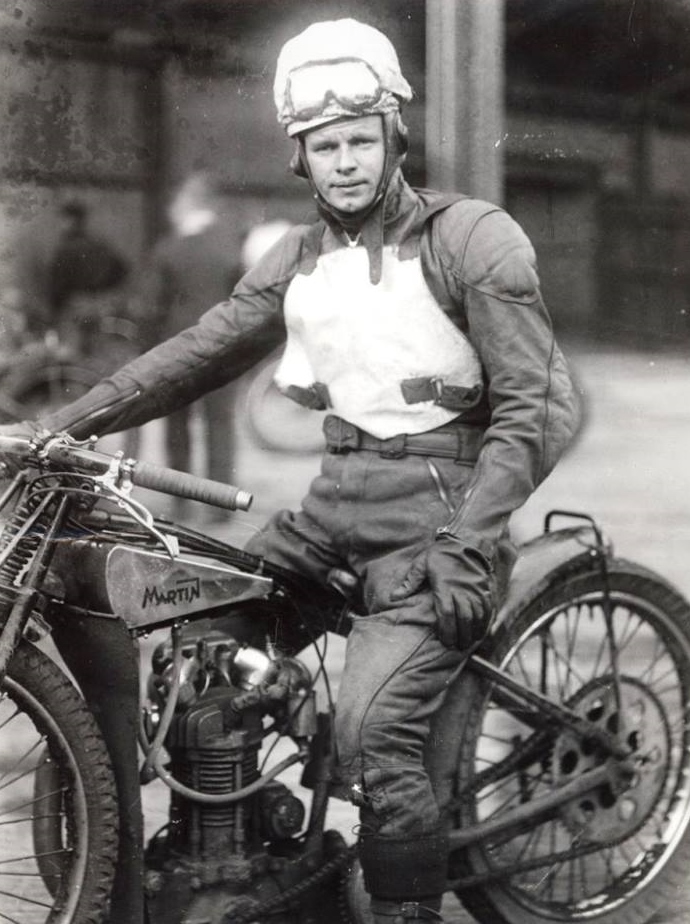 Cecil de la Porte was a South African rider who arrived in Britain in 1935 and signed for the Wembley club in London. The following year he represented South Africa in qualifying rounds of the World Championship.
De la Porte had won South Africa's nomination after beating Stan Collins* for the SA Dirt Track Championship in November 1935. He had second-half rides at Wembley in 1935 and the following year raced for the club's second team, the Wembley Cubs, before moving in 1937 to link with fellow countryman Keith Harvey* at Birmingham in the 2nd division Provincial League.
Legend has it that in his early days at Wembley, de la Porte fell out with the Lions' distinguished Australian international and future World Champ Lionel van Praag, who warned him: "Keep out of my way or I'll run over you!" Apparently, in one race de la Porte failed to remember this and Praagie was as good as his word.

~ ~ ~ ~ ~ ~ ~ ~ ~ ~ ~ ~






ROY BESTER
- an Edinburgh Monarch and a Boksburg Bee.
Roy was the S.African Champion of 1955, raced for at Pretoria. He also won the Rhodesian Golden Helmet at Bulawayo in 1955 & '57. Having ridden in the UK for Edinburgh, after the Monarchs closure mid-season Roy moved to Leicester Hunters in the English Midlands in 1953 & '54. It was his last year of racing in the UK.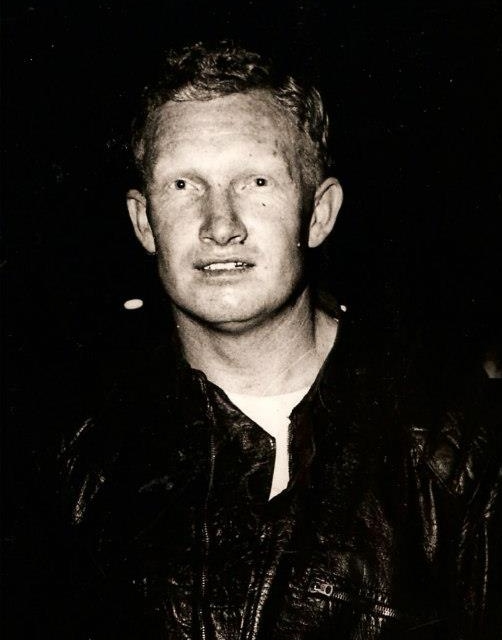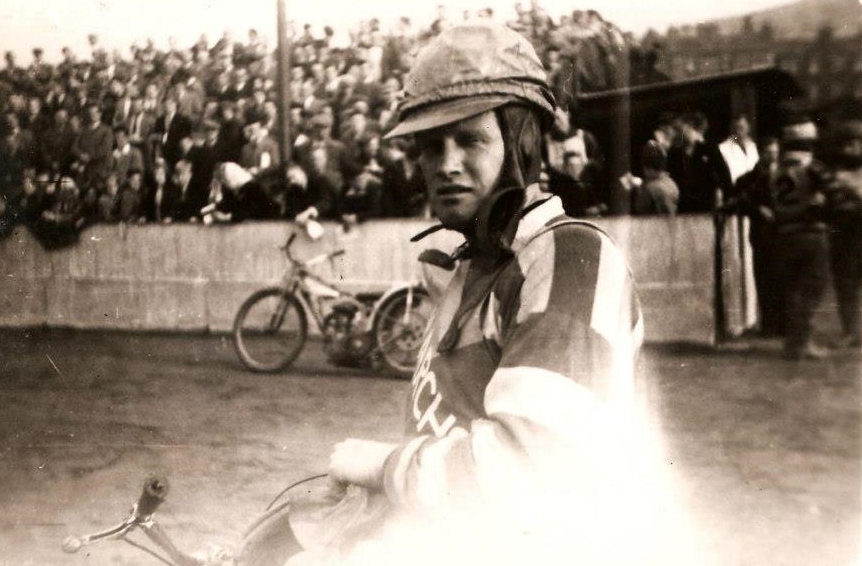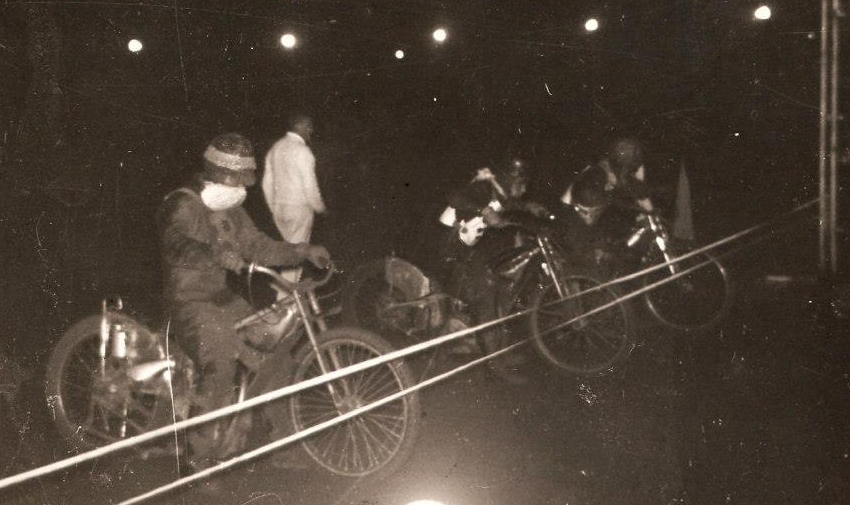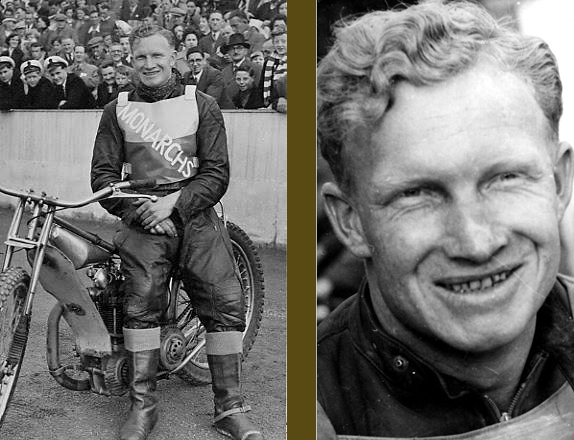 Fred with Henry Long, 2005, (centre rear, Boet Strydom) FRED WILLS -

b. 24.4.1919, d. 21.10.2013
ALAN HUNT

Alan Hunt receives the Natal Open Championship trophy from Buddy Fuller, Hoy Park, Durban, 1956.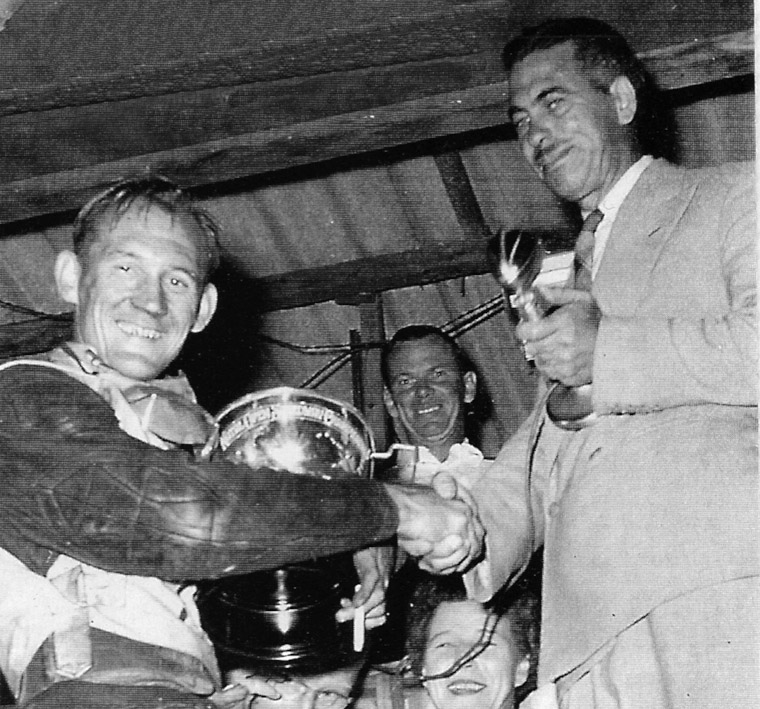 .....................................................................................................................................................................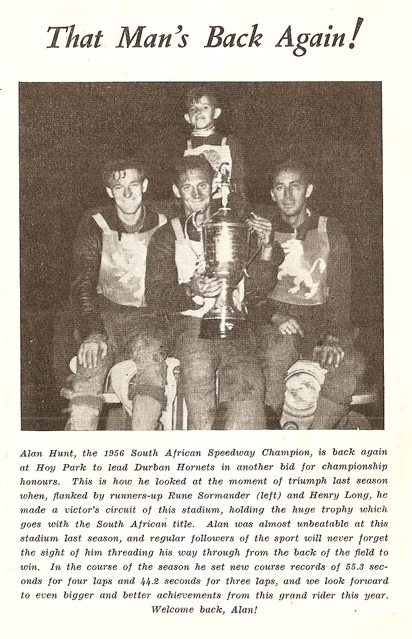 Durban, Oct.1956: A short article on the return to Durban of the 1956 SA Champion, Alan Hunt at the start of the new '56/'57 season. Hunt is shown having won the Championship, with 2nd & 3rd place men, Rune Sormander of Sweden and local hero Henry Long.
"Alan Hunt, the South African speedway champion, is back again at Hoy Park to lead Durban Hornets in another bid for championship honours. This is how he looked at the moment of triumph last season when, flanked by runners-up Rune Sormander (left) and Henry Long, he made a victor's circuit of the stadium, holding the huge trophy which goes with the South African title. Alan was almost unbeatable at this stadium last season, and regular followers of the sport will never forget the sight of him threading his way through from the back of the field to win. In the course of the season he set new course records of 55.3s for 4 laps and 44.2s for 3 laps, and we look forward to even better achievements from this grand rider this year. Welcome back, Alan !"

PETER WILLIAMS

Memories of the 1956/57 S.African Season by a Wembley Lion.



Wembley team 1956/7: Ken Long, Toby Boshoff, Jimmy Meade, Henry Long (on bike), Peter Williams, Pat Mckenzie; kneeling: Aubrey Long, Arthur Duncan.


England: Eric Boothroyd, Ron Mountford, Jim Lightfoot, Peter Williams, Nick Nicholls, Jimmy Gooch, Dave Collins. (Collins was a UK-born S.A. resident, drafted into the team after the death of England's skipper Alan Hunt 2 weeks earlier.)





Above & below: Wembley Stadium, (the morning after a meeting.)



The Wembley Workshops of 1956.



Above & below: Interval Attractions.
- Promoter Buddy Fuller is seen trying out this bike on which a fella would climb up the ladder and down the other side while being ridden around the track.

- Ron Mountford is seen in the 2 shots below trying out the little Midget car he'd had made and transported over to South Africa from UK. (He was a good mechanic and welder.) With the Midget, built like all with 500cc JAP speedway bike engines, he made attempts on the track record. "
A very hard rider, he didn't see anybody when he was riding."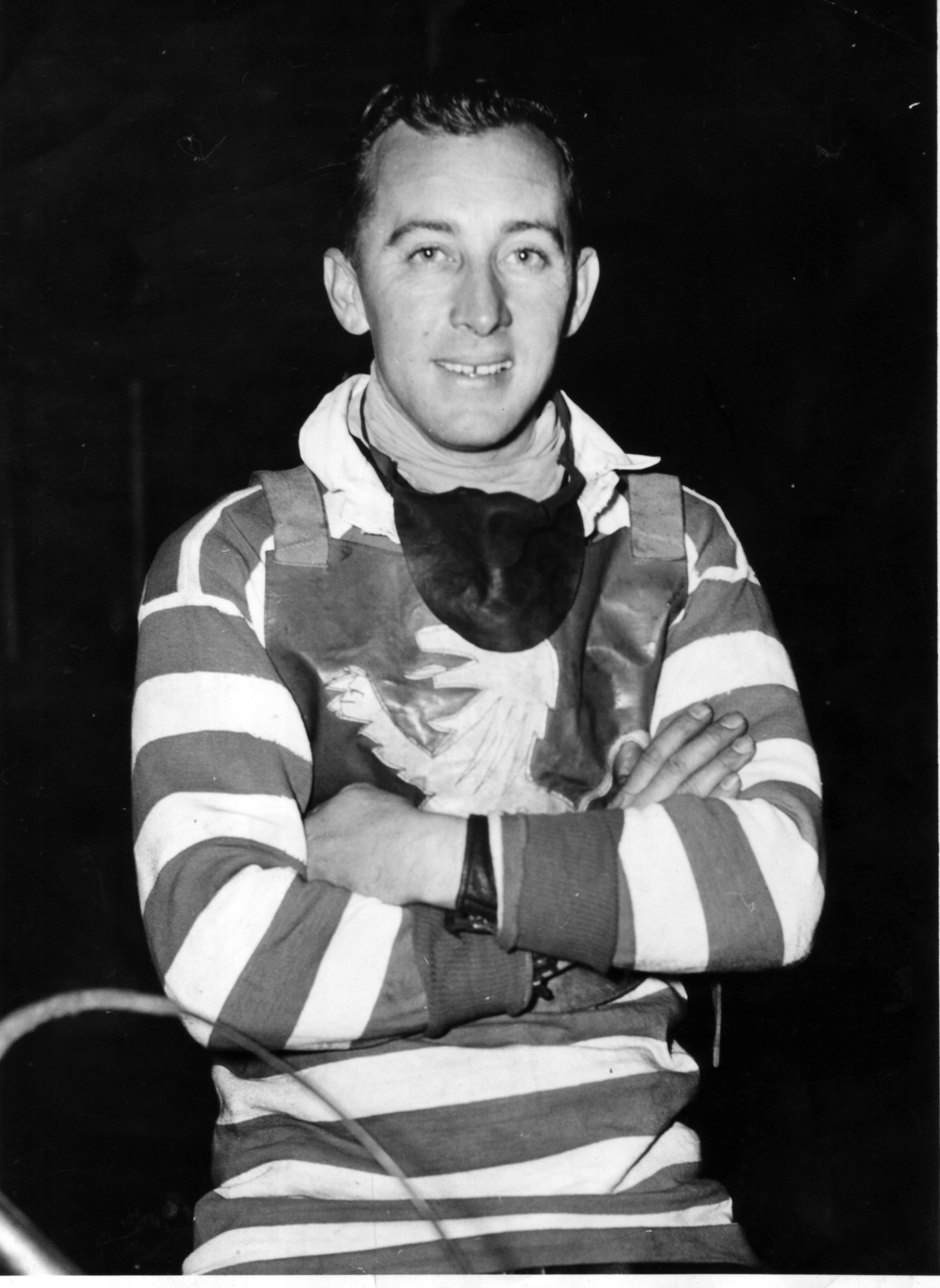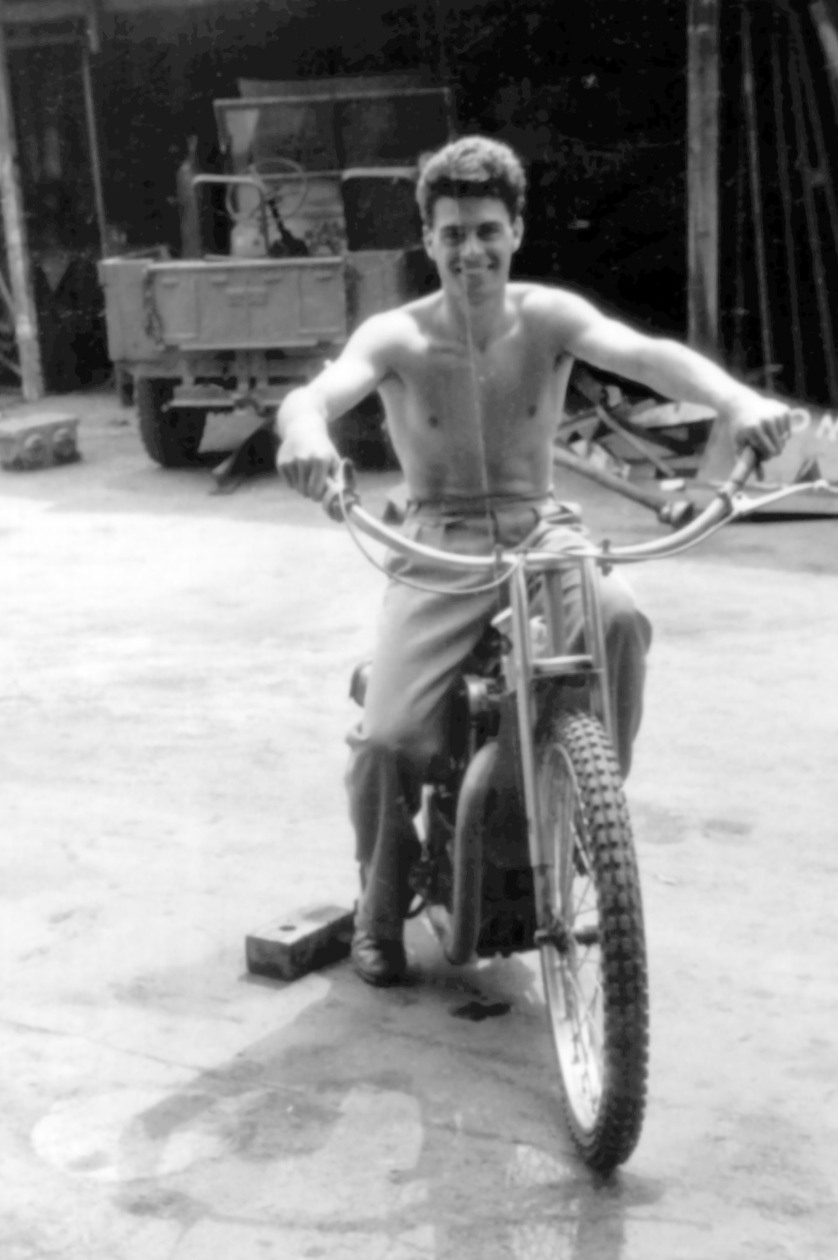 Wembley Lions skipper, Henry Long Brit Jim Lightfoot, Vereeniging Aces & Covenry UK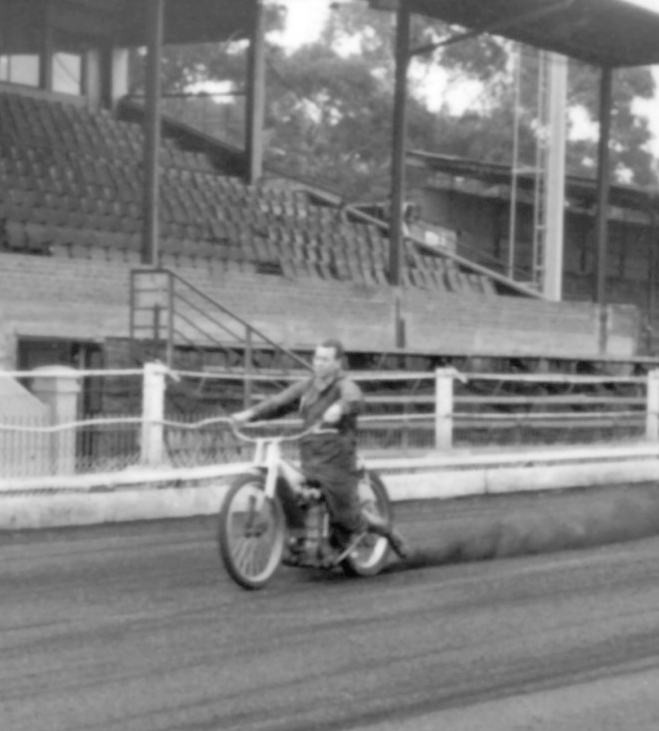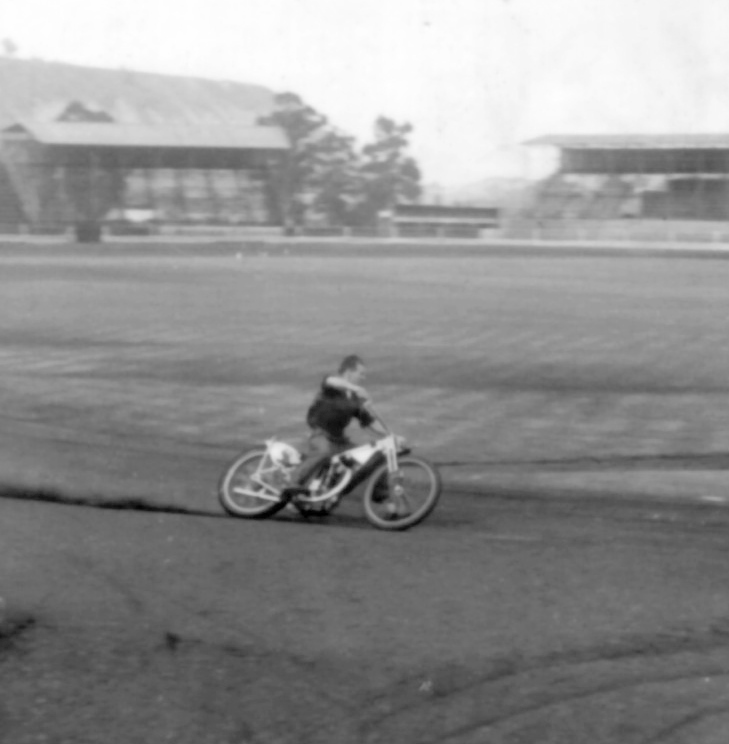 This chap in the 2 shots above had only one hand and a hook-type attachment on his right. So he had the throttle fitted to the left. Thought to be Fred Goodrum, who had an arm amputated after a road crash in March 1952. Goodrum was driving a car with Buddy Fuller and his son Bobby, Reg Duval and Trevor Redmond as passengers from Jo'burg to Durban when he swerved to avoid a head-on collision and went off the road. The arm was too badly damaged to save and was amputated at Ladysmith Hospital. As far as is known he never raced again: the adapted bike was for his own enjoyment.


.......... On the road in 1956 !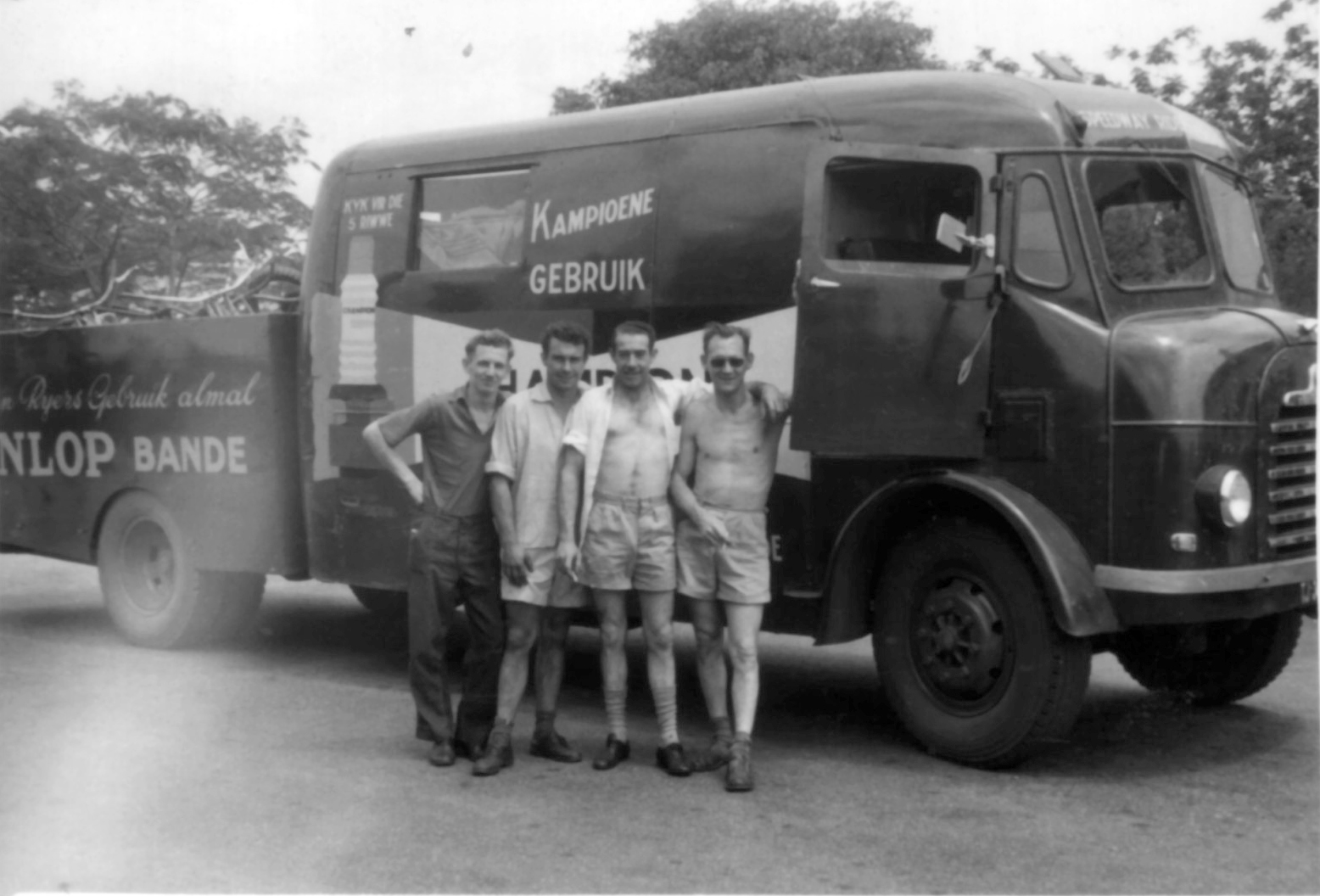 L > R: Pat McKenzie, Peter Williams, Buddy Fuller and Alan Hunt.
The Bedford bus we traveled all over the country in, and up to Rhodesia. Note the bikes in the back. 4 could sit up front, doing the driving, then there were 4 big bunk beds that were used for sitting or sleeping on.
"I thought Southern Rhodesia was more civilised, the gardens much greener, and the local black population more pleasant than in Jo'burg. Driving down towards the Cape was another wonderful experience as the countryside became more beautiful and colourful as you got nearer to the coast.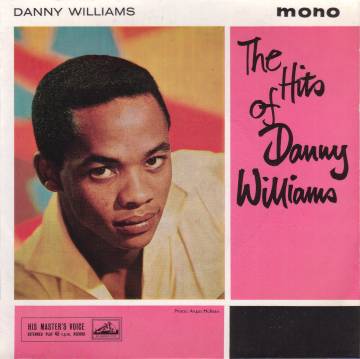 Buddy Fuller had a business friend who ran a Carnival, (still running today as the Minstrel Carnival,) which each year had talent contests for blacks and coloured in Cape Town. One day after we got back from a cinema visit to where the carnival was to be on that night, Godfrey Rabbi, Buddy's friend, said
"We've found a young boy who has a good voice, same name as you, Danny Williams
." He later, in the UK at the age of 20, made a very good recording of '
Moon River'
, which made No.1 in the charts in 1961."


At Cape Point to see the Baboons. Eve Hunt standing,(Alan Hunts wife,),
Sitting on the fender, Peter Williams, Jimmy Gooch, the driver, (a friend of Buddy Fuller.)

......... recreation !



Peter Williams joins in at the cycle speedway. Nick Nicholls and PW at Haut Bay, Cape Town.
"
At Cape point it was too cold to go into the water, but just a few miles around the corner to the Indian Ocean the water was lovely.

"
...................


Some recent pleasant memories from Peter Williams. Unfortunately others remain: the tour ended badly on return to Britain in 1957 when the British riders involved in this '56/'57 South African season with Buddy Fuller were charged, fined and received a UK riding ban from the RAC/SCB on the basis that the Fuller tracks, including Wembley, were unlicensed.


South African speedway's 2 World Finalist, ( held @ Wembley, London)
Henry Long 1952 and Doug Davies 1956, (also qualified in '55, but withdrawn thru illness,)
seen here in their club colours, - Belle Vue Aces and Birmingham Brummies.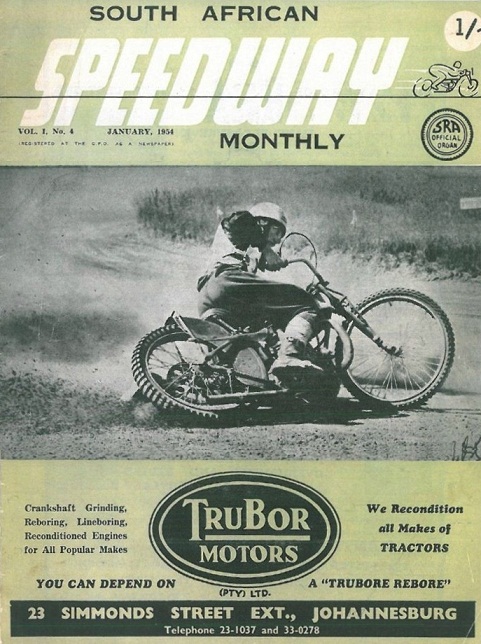 Reproduced left is a copy of
"South African Speedway Monthly",
Vol.1 No.4, a magazine of the SA SRA (Speedway Riders Association) issued January 1954. The full 24 page content can be read on the Old Time Speedway website, under Links/Speedway in Print, (registration required.) Seen on the cover, in action at the Old Barn track in 1946, Bob Serrurier, and below, from within:-
- Harry du Toit in the Sprinbok national race-jacket,
- and as a Spring Star, centre, with Bill Kitchen, (Harry du Toit,) & George Mathews.
- Hornets in action: Vern McWilliams & Bill Dalton of Durban Hornets with Howdy Byford of Wembley Lions trying an outside line.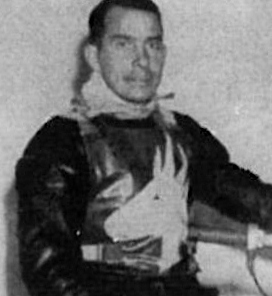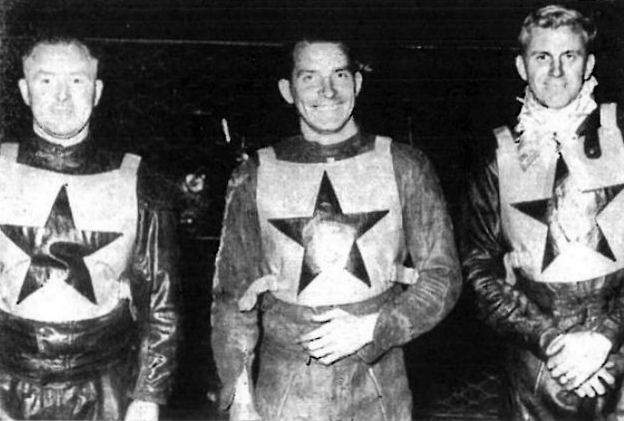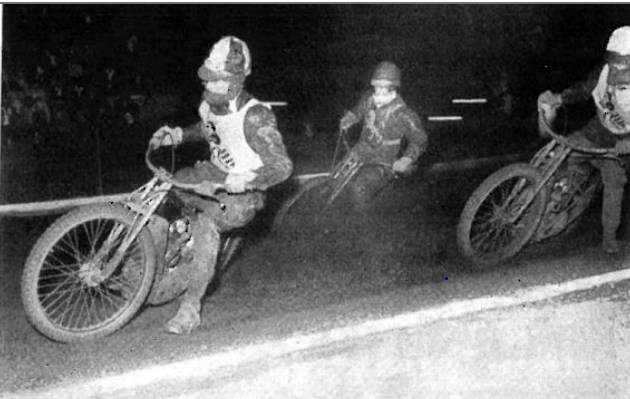 The following table of team match results taken from 'SA Speedway Monthly' serves to illustrate the level of activity over the 6-week December period, (there will have been other individual, i.e. non-team meetings in addition to these matches.)

1953 Venue
| | |
| --- | --- |
| Nov.19 | Randfontein |
| 20 | Wembley |
| 21 | Springs |
| 26 | Randfontein |
| 28 | Springs |
| Dec.3 | Randfontein |
| 4 | Wembley |
| 5 | Springs |
| 5 | Durban |
| 10 | Randfontein |
| 11 | Wembley |
| 12 | Springs |
| 17 | Randfontein |
| 19 | Springs |
| 22 | Wembley |
| '54 Jan.2 | Wembley |
| 2 | Springs |
Score
| | | |
| --- | --- | --- |
| Aces 51 | : | Lions 33 |
| Pretoria Eagles 40 | : | Spring Stars 44 |
| Stars 47 | : | Aces 37 |
| Aces 49 | : | Stars 35 |
| Stars 44 | : | Eagles 40 |
| Aces 41 | : | Eagles 42 |
| Lions 46 | : | Eagles 38 |
| Pretoria Eagles 45 | : | Rand'fntn Aces 39 |
| Hornets 48 | : | Lions 34 |
| Aces 47 | : | Hornets 37 |
| Lions 53 | : | Hornets 25 |
| Stars 57 | : | Hornets 27 |
| Pretoria Eagles 47 | : | Wembley Lions 36 |
| Stars 44 | : | Lions 40 |
| Lions 52 | : | Stars 32 |
| Lions 44 | : | Eagles 40 |
| Stars 46 | : | Aces 38 |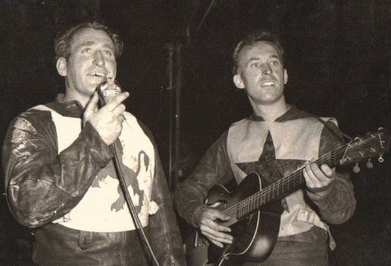 Dennis Newton, (rt.) accompanying Howdy Byford in 1957 when he rode for the East Rand Stars in the ill-fated Control Board League at the Randfontein and Pretoria tracks.
This was Dennis's first season in the Union, but he went on to become the most prolific S.A. Champion with 5 title wins plus an Open Championship win in subsequent years.




UK Speedway Star & News
- featuring Henry Long and Fred Wills,
of Wembley(Jo'burg) Lions and Randfontein Aces in the SA National League,
1956/57. (Fred was Buddy Fuller's brother-inlaw.)
Classic speedway cartoons
from the 1950s by the Tribune's Jock Leyden : -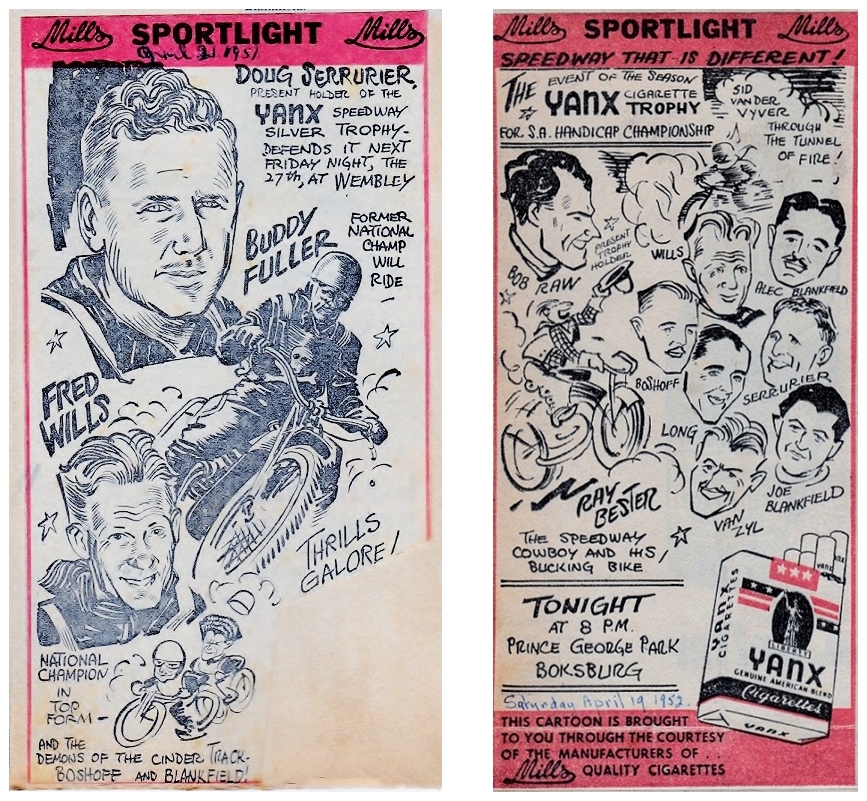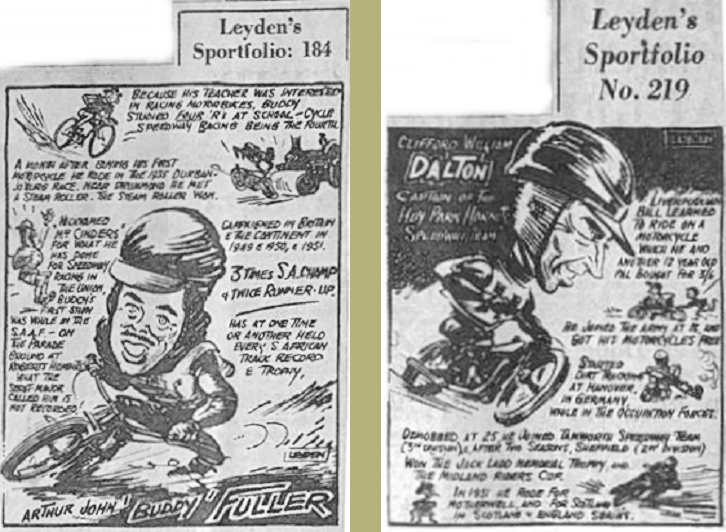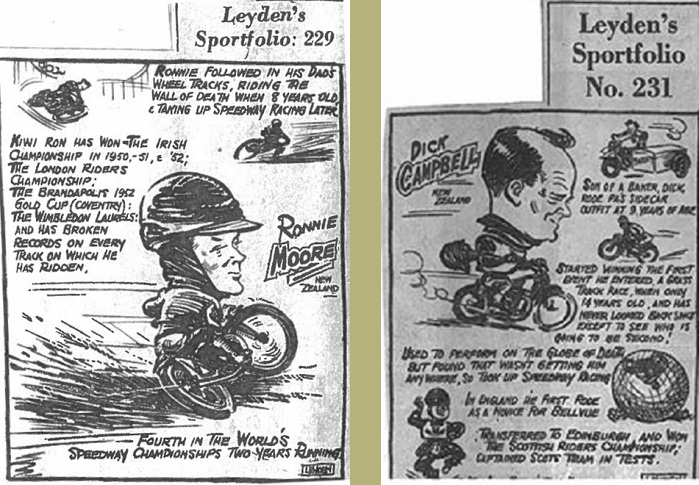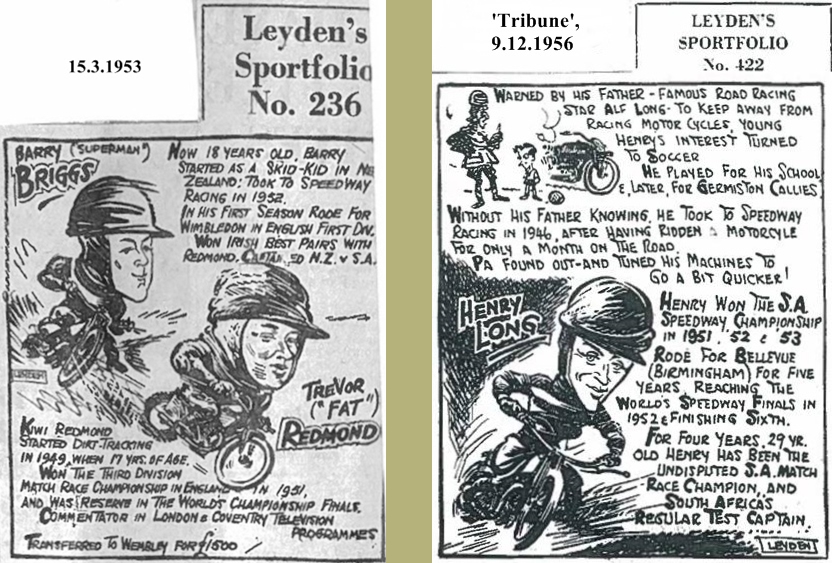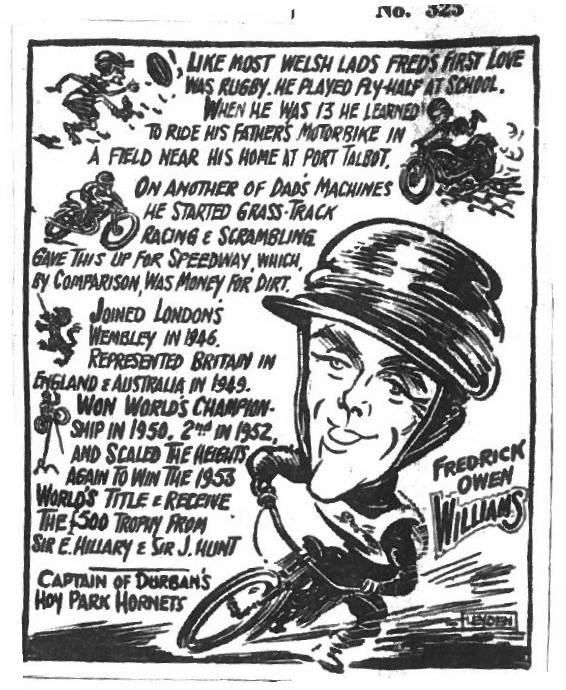 ~ ~ ~ ~ ~ ~ ~ ~ ~ ~ ~ ~ ~ ~ ~ ~ ~ ~
~ ~ ~ ~ ~ ~ ~ ~ ~ ~ ~ ~ ~ ~ ~ ~ ~ ~
Durban Hornets v. Wembley Lions, November 1956,
as depicted in Durban's
'Daily News
' at that time, and reproduced in '
Classic Car Africa
' in 1996, with an additional accompanying
article
on the match by motorsports journalist, Ken MacLeod.